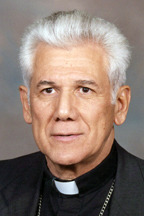 February 13, 1937 – January 19, 2013
The Rev. Canon Fernando C. Gómez, longtime priest of the Diocese and a former vicar of La Magdalena Church in Glendale, died on January 19 at age 75.
Canon Gómez is survived by Adela, his wife of 50 years, and their son Antonio, their daughter Monica, and their families.
Requiem Eucharist was held on February 23 at the Cathedral Center of St. Paul. Bishop Diocesan J. Jon Bruno presided.
Canon Gómez's ordained ministry spanned 50 years and included strategic leadership in bilingual and Hispanic contexts and the Cursillo movement. He retired from La Magdalena in 2002 after serving as vicar there since 1983. At that time, he served concurrently as director of Casa Rusack, a Latino ministry center started in the 1980s and later combined with ongoing diocesan programs. He was also a volunteer chaplain in L.A.'s Men's Central Jail. In 1993 he was named an honorary canon of the Cathedral Center by Bishop Frederick H. Borsch.
Fernando Catalino Gómez was born February 13, 1937, in Guantanamo, Cuba. He earned his degree in theology from Union Seminary in Matanzas, Cuba, and was ordained deacon and priest by Cuba's Bishop Romualdo Gonzalez. He served several congregations in Cuba before assisting in 1969-70 on the staff of the Anglican cathedral in Madrid. In 1970 he became a worker priest in charge of Hispanic ministry at Messiah Church, Santa Ana, and then served as associate rector of the Congregation of St. Athanasius, Echo Park, in 1971-77. Thereafter he served as vicar of the former Resurrección congregation in Los Angeles before being named priest-in-charge at La Magdalena, Glendale.
In 1985, he was also named to a team ministry as vicar of Holy Family, North Hollywood.
Canon Gómez was a longtime member of the diocesan Program Group on Hispanic Ministries and its preceding Hispanic Commission, as well as serving the Cursillo Secretariat as a spiritual advisor. He was a member of the ecumenical Hispanic Association for Theological Education, and a participant in the Lambeth Planning Committee.