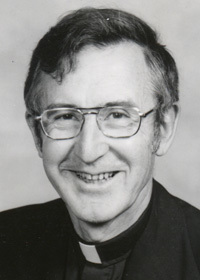 March 23, 1921 – September 9, 2016
The Rev. A. Gillett Bechtel, retired rector of St. Francis' Church, San Bernardino, died Sept. 9. He was 95, and had been living in Yucaipa.
Survivors include his sons, Peter and Paul, and two daughters, Karen and Susan. Bechtel's wife, Betty Harpster Bechtel, died in 2013 after 67 years of marriage. The family held a private memorial on Sept. 20; a second service with interment of ashes will take place at Sea Ranch in Sonoma County, where the Bechtels lived in retirement.
Bechtel served at St. Francis' Church as vicar from 1974 to 1976, then continued as rector until 1985. In retirement he served at Shepherd by the Sea Lutheran/Episcopal Church, Gualala, from 1987 to 2012.
Prior to his service at St. Francis', he assisted at St. Ambrose's Church, Claremont, for four years. He was a chaplain at both the California State University and University of California campuses in San Diego, and later at the Claremont Colleges. He also served as an instructor at Bloy House (Episcopal Theological School at Claremont) from 1971 until 1985. He took a particular interest in Eastern Orthodox history and theology and the history of the Episcopal Church in Mexico, and was author of The Mexican Episcopal Church, a Century of Reform and Revolution, published in 1966.
Ordained as a Methodist minister in 1947, Bechtel was pastor of Methodist congregations in Ocean Park and in Phoenix, Arizona, and director and chaplain at Methodist youth camps for several years. While preparing for the Episcopal priesthood, he was a chaplain at the Navy Family Chapel in Long Beach; after his ordination to the diaconate and priesthood in 1953, he was appointed vicar of Church of the Redeemer, Los Angeles, where he served until 1956.
Alpha Gillett Bechtel was born March 23, 1921 in Venice, California. He earned a bachelor's degree in chemistry at UCLA and worked for a time as a chemist at Union Oil Company and served in the U.S. Coast Guard Temporary Reserve during World War II. In 1947 he earned a master of divinity degree at Garret Theological Seminary. He later earned a master's degree in history at San Diego State, and did further graduate study at Claremont Graduate School.