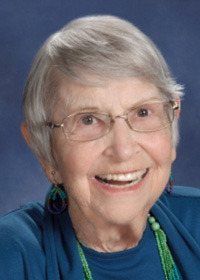 d. November 30, 2015
Jeannette Fayram Shackell, widow of the late Rev. Richard Shackell, died Nov. 30.
Survivors include her children, David, Margaret, Richard and Sarah; 11 grandchildren and four great-grandchildren. Another daughter, Mary, predeceased her.
A memorial service was held Jan. 9 at Trinity, Santa Barbara, where she had been a member since 1986.
She shared in her husband's ministry at several congregations in the Diocese of California. The family moved to the Diocese of Los Angeles in 1976 when he was called as rector of Grace Church, Glendora, where he served until his retirement in 1984. Together the Shackells were involved in a senior housing project in Glendora; when it was completed, they moved to Santa Barbara where they became members of Trinity Church.
Richard Shackell died in 2008. In retirement, Jeannette Shackell continued her longtime work as a classroom volunteer.