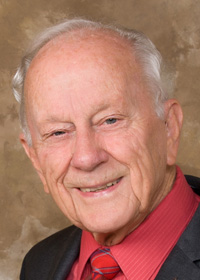 July 15,1929 – May 23, 2022
[The Episcopal News] The Rev. John Keester, former rector of St. Ambrose's Church, Claremont (1966-1980), and a longtime teacher at Bloy House (Episcopal Theological School in Claremont, now Los Angeles), died May 23. He was 92.
Survivors include his wife, Betty Dennison, to whom he was married in 2014; four sons from his first marriage – Philip, John, Christopher and Timothy; and many grandchildren and great-grandchildren. He was predeceased by his first wife, Lauranne Yust Keester.
Service arrangements are pending.
Keester taught homiletics at Bloy House from 1969 to 1980; from 1972 to 1974 he also was its acting warden. His passion for education was reflected in his service as a chaplain at the University of California's Santa Barbara campus, where he was founding vicar of St. Michael's University Chapel in Isla Vista, serving from 1961 to 1965. He was an associate chaplain at UCLA and executive secretary for Ministry in Higher Education for the Diocese of Los Angeles from 1965 to 1966.
During his tenure at St. Ambrose he served for a year (1976 – 77) as an exchange vicar at St. Cuthbert's Church in Doveridge, Derbyshire, England.
After leaving St. Ambrose's in 1980, Keester continued his ministry as rector of All Saints Church, Bakersfield (1980 – 1985) and of St. Timothy's Church, Catonsville, Maryland (1985 – 1991). He served on numerous diocesan, provincial, and wider Episcopal Church committees. He retired in 1991, but continued his ministry as interim rector at St. Paul's, Modesto, Calif., and as an assistant at St. Clare's Church, Rancho Cucamonga (now closed). In recent years he has often assisted at St. Ambrose's and nearby congregations, including St. Mark's, Upland, and St. John's, La Verne.
Keester was born in Kane, Pennsylvania on July 15, 1929. He earned a bachelor's degree in psychology from UCLA in 1952 and a master of divinity degree from Church Divinity School of the Pacific in Berkeley, Calif., in 1955. He also did graduate-level study in adult education at UCLA from 1958 to 1960. He was ordained a deacon June 13, 1955 and a priest Dec. 12, 1955 in the Diocese of San Joaquin (California). He served a congregation in Arvin, Calif. (Kern County), before returning to the Diocese of Los Angeles as a curate at St. Jude's Church (now St. Jude's Anglican Church), Burbank.