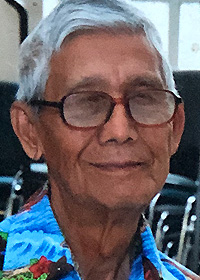 September 29, 1932 – October 8, 2019
The Rev. Magdaleno Bacagan, retired vicar of Holy Communion Church, Gardena (1983 – 1998), died Oct. 8. He was 87.
Service arrangements are pending.
Before becoming vicar of Holy Communion Church, Bacagan was assistant treasurer of the diocese for four years. At the same time he began his work at the Gardena church, Bishop Robert C. Rusack named him diocesan vicar for Asian Ministries, assisting then-Archdeacon Terence Lynberg.
Bacagan, who spoke Spanish and Chinese in addition to English and Tagalog, was also an active member and secretary of LAD/EAST, a precursor to the Los Angeles branch of Episcopal Asiamerican Ministries. He was appointed by then-Presiding Bishop John Allin as a commissioner of the wider church's Asian ministries program (EAST).
In 1976, Bacagan, a native of the Philippines, came to the Diocese of Los Angeles as part of a project jointly funded by the churchwidje and local Asian ministries programs to study possibilities for Filipino ministry. He was instrumental in forming the Church of the Holy Child, Wilmington, within the structure of the Philippine Independent Church, but under the episcopal supervision of the bishop of Los Angeles. Bacagan served as a liaison to that congregation and spiritual advisor to local members of the Philippine Episcopal Church.
Bacagan was born Sept. 29, 1932 in the Philippines. He earned a bachelor of arts degree at the University of the Philippines and bachelor of theology at St. Andrew's Theological Seminary. He also studied at various times at St. George's College, Jerusalem; Virginia Theological School; and Canterbury. He was ordained to the diaconate in August of 1958 and to the priesthood a year later. He was a chaplain at Church of the Good Shepherd, Zamboanga City; at St. Luke's Episcopal Hospital, Quezon City; and St. Stephen's Episcopal High School in Manila before moving to the United States and becoming an associate priest at Church of the Atonement in Washington, D.C., where he served 1972 – 78. He then took up his ministries in the Diocese of Los Angeles.
After retiring from Holy Communion Church in 1998, Bacagan served several congregations as a supply or interim priest. He often attended Grace Church near his home in Glendora.