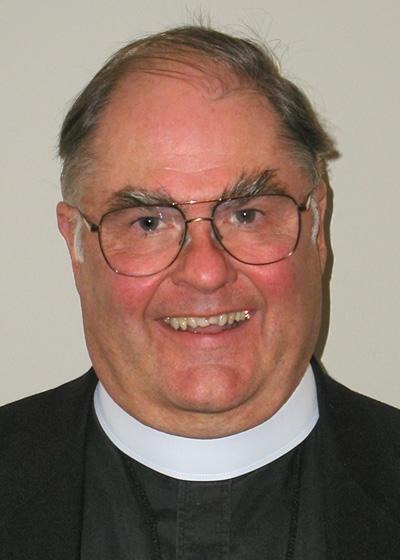 September 29, 1937 – July 28, 2022
The Rev. Canon Samuel Mortimer (Mort) Ward IV, who served many congregations of the diocese in his long ministry as an interim priest and transition specialist, died July 28, 2022 at his home in Santa Barbara. He was 84.
Survivors include Alessandra (Sandy) Ward, his wife of 41 years; children Christopher, Samantha, Taylor and Alexander; and seven grandchildren. Service arrangements are pending.
In the first 30 years of his long ministry, Ward led several congregations as rector or vicar, including Trinity, Santa Barbara (rector 1986 – 1993); St. Francis', Simi Valley (vicar 1980 – 1986); and St. Bartholomew's, Poway, in the Diocese of San Diego, where he was vicar from 1967 to 1973 and rector from 1973 – 1980 after leading the congregation to parish status. During his San Diego tenure he also was a director of that diocese's Episcopal Community Services, among other diocesan and civic involvement.
Ward also assisted briefly at Holy Trinity, Covina, and St. Mary's, Laguna Beach. He was ordained to the diaconate in 1963 and to the priesthood in 1965. Early in his ministry he worked among the poor and indigenous populations of the southern and southwestern United States.
In the 1990s Ward trained as a specialist in interim ministries, serving congregations that were between rectors or vicars and needed help refocusing their work. "He loved that," his widow told The Episcopal News. "He was very proud of being an interim pastor to so many congregations, helping each one of them, getting them back on their feet." Among the many congregations he served for short or long interims were: St. Francis', Palos Verdes Estates; St. Mary's, Lompoc; St. James', South Pasadena; St. Patrick's Church and Day School, Thousand Oaks; St. Timothy's, St. Louis, Missouri; St. Peter's, St. Louis, Missouri; St. Martin in the Fields, Winnetka; Christ the King, Palmdale and more. He also advised other congregations as the Diocese of Los Angeles' transition specialist, beginning in 2003.
Ward lent his skills to other clergy as a diocesan Fresh Start facilitator and a faculty member at the Episcopal Theological School at Claremont (Bloy House, now relocated to Los Angeles). An active member of the Interim Ministry Network, he served on its board of directors and faculty, and on its accreditation, transition consultant peer review and professional development committees. He also contributed to two IMN textbooks.
Ward had an active interest in liturgy, music, church governance and Native American ministries. He was at various times a member of Diocesan Council, secretary of Province 8's Commission on Indian Work, and chair of liturgy and music commissions in the Los Angeles and San Diego dioceses. One of his favorite tasks was being coordinator of worship for two Episcopal Church General Conventions; 1985 in Anaheim, California, and 1988 in Detroit, Michigan.
A retired volunteer firefighter, he served the American Red Cross as an instructor and member of its Disaster Action Team. An emergency medical technician and board-certified crisis chaplain, he also was a Red Cross disaster mental health lead, spiritual care advisor to its Central California region, and a Services to the Armed Forces chapter lead. The Red Cross awarded him the Clara Barton Award for meritorious volunteer leadership. He also was a chaplain to the Santa Barbara Fire Department.
In 2013 Ward was appointed to the board of directors of the Institute for Congregational Trauma and Growth, a division of the Substance Abuse and Mental Health Services Administration of the U.S. Department of Health & Human Services.
An oblate of the Order of the Holy Cross since 1985 and a sometimes board member of the Anglican Fellowship of Prayer, he coordinated the St. Mark's Institute at Mt. Calvary, OHC's monastery in Santa Barbara, and was a diocesan lay reader examiner. He attended the Conference of the Order of St. Benedict in 1965 and the Alban Institute in 2002.
Bishop J. Jon Bruno named Ward an honorary canon of the diocese in 2006.
Samuel Mortimer Ward IV was born Sept. 29, 1937 (the feast of St. Michael and All Angels) in New York City to his namesake father, an attorney, and his mother, Marion Campbell, a hospital aide. He graduated from Windsor Mountain School and received a bachelor's degree from Heidelberg University (Germany) with a major in psychology and a master of divinity degree from Church Divinity School of the Pacific (CDSP). He married Diane Korosy in 1960, and they had two children, Christopher and Samantha. The couple later divorced. He married Alessandra in 1981; she brought her children Taylor and Alexander to the family.
"He will be remembered not only for his ministries, but for his epic eyebrows, his hearty laugh and a tremendous sense of humor that came alive especially with family and friends," wrote his widow, Sandy Ward. "Canon Mort loved learning, teaching, all kinds of animals, good liturgy and music. His favorite hymn was 'Christ the Fair Glory,' which he had congregations sing because it encapsulated his theology of prayer while causing people to stretch their vocal range a bit."
When Ward resigned as rector of Trinity Church, Santa Barbara, in 1993, he wrote of his ministry: "I began in the early 1960s in the deep South and among native Americans in the Southwest. I have worked among the desperately poor deep in Baja California, and am currently committed to the struggle for the rights of women, justice for gay and lesbian people and meeting the needs of the hungry. I have done these things not only because I believe in them, but because it has been my experience that congregations become stronger when they actively participate in the causes of peace on earth and goodwill toward all."