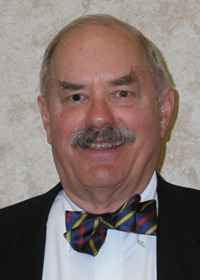 May 18, 1929 – March 15, 2016
Canon Peter Mann, a longtime treasurer of the diocese and its missioner for administration from 1983 to 1995, died March 15. He was 86 and died at home after a recent hospitalization.
Requiem Eucharist is scheduled for 2 p.m. on Saturday, April 2, at St. Matthew's Church in Pacific Palisades, where Mann was an active vestry member, senior warden and volunteer since 1978, together with his wife, Carlotita (Tita), who died in 2011.
Survivors incude a daughter, Sarah (husband, Michael Newman), two sons, Peter Jr. (wife, Pamela) and William (wife, Linda), and grandchildren Max, Dana, Christopher, Emily, Kevin, James, Alex and Thomas. Another daughter, Melanie Mann Bronfman, predeceased her parents. The four Mann children attended St. Matthew's School, where Peter and Tita Mann also were volunteer leaders. Peter assisted strategically with the building of St. Matthew's new church after fire devastated the campus in 1978. The Mann family members have been longtime residents of Pacific Palisades.
Peter Reed Mann was born May 18, 1929 in Detroit, appropriately the "Motor City" given that Peter succeeded his father in the management of Southland automobile dealerships before accepting Bishop Robert Rusack's call to serve the diocese as missioner for administration. Harry Mann Chevrolet, located in the Crenshaw District of Los Angeles, was known as "the home of the Corvettes." He was educated at Dartmouth College in New Hampshire.
Mann and Carlotita "Tita" Gonzalez of San Juan, Puerto Rico, were married July 10, 1952, and remained active for many years at St. Alban's Church in Westwood, where Peter served many terms on the vestry and as senior warden. There he was good friends with fellow parishioners Oliver B. Garver Jr. and Ruth Nicastro, among other longtime diocesan leaders.
"St. Alban's rector, Parker Jones, was one of the greatest influences in my life," Mann told The Episcopal News in 1995. "He and Bishop Rusack were both influential in my being involved in church activities." Pete also said in the same interview that "the best change in my estimation" in the life of the church was "allowing ordination of women and seeing what they have brought to the ministry of the church."
Mann added this reflection: "I have most enjoyed, and in most cases been successful, in finding ways to get things accomplished to solve problems, in the spirit of what we are supposed to be about. I strongly believe that anyone involved in the church as trustee of money and confidences given to us should properly handle and properly spend funds, without waste." Mann added that the greatest challenges he saw for the future of the church are "stewardship and parochialism – they go together."
Mann loved the outdoors and was active with the diocesan camping program, working closely with Camp Stevens in Julian.
After Bishop Rusack's death in 1986, Mann continued on the diocesan staff under the administration of Bishop Fred Borsch. He was a key advisor in the construction of the Cathedral Center of St. Paul, of which he was named an honorary canon in 1994. Bishop J. Jon Bruno named him in 2005 to the diocesan Order of Angels on the occasion of his retirement as treasurer.