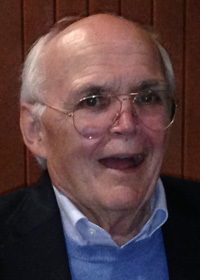 March 30, 1936 – February 17, 2017
Philip K. Roskam, Ph.D., of Van Nuys, husband of Bishop Catherine Roskam, died peacefully Feb. 17 of complications from Parkinson's disease.
Roskam was born in Hampton, Iowa in 1936 to Betty and Carl Roskam. The family, along with older brother Claire, moved to Portland, Oregon in 1943. Phil moved to New York City in his college years, received his B.A. from City College and his Ph.D. in clinical and counseling psychology from NYU. He joined the counseling Department at Queens College before starting a private practice, which he kept for more than 40 years. He met Catherine Scimeca in 1965 and they married the following year. Their daughter Gemma was born in 1976. Before moving to San Francisco in 1989, the family spent many happy weekends and summers at their cottage in Sag Harbor.
Phil Roskam was a gentle, compassionate and intuitive person with a great sense of humor and a huge heart. His talent as a therapist helped many people change their lives for the better. When his wife was elected bishop suffragan of the Episcopal Diocese of New York in 1995, they moved to back to New York where Phil embraced his role as bishop's husband with great enthusiasm. After retirement, the two moved to Los Angeles to be close to their daughter and her family. As his disease progressed he was cared for with great compassion at Shalom Elderly Care with additional support in his final week by Skirball Hospice.
He is survived by his loving wife of 50 years, the Rt. Rev. Catherine Roskam, their daughter Gemma, his son-in-law Greg and grandson Olen, in whom Phil's sense of humor and passion for justice lives on.
Funeral services will be held in Los Angeles at St. James-in-the-City (3903 Wilshire Blvd.) on February 25 at 11 a.m., and in New York City at the Cathedral of St. John the Divine (1047 Amsterdam Ave. at 112th St.) on March 25 at 11 a.m. Clergy and their spouses are invited to process at both services.
In lieu of flowers, the family requests donations be made to The Michael J. Fox Foundation for Parkinson's Research or the ACLU.