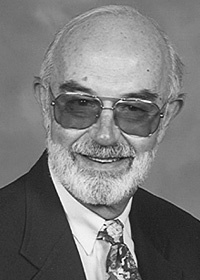 November 1, 1935 – March 5, 2017
The Rev. Richard Charles "Dick" Hall, 81, former director of St. Barnabas Senior Center in Los Angeles, died at his home in Pasadena on March 5 after a brief illness.
A private memorial service will be held at 11 a.m. on Sunday, April 2 at the Los Angeles County Arboretum.
Survivors include Hall's daughter Alison Kimberly, his sons Jonathan Stephen and David Christopher, and five grandchildren, as well as his companion Dee Davis, her daughter Wendy, and many cherished friends.
During his 25-year tenure at St. Barnabas' Center, an institution of the diocese (1975 – 2000), Hall also assisted at St. Paul's Church, Pomona (1985 – 1991) and at St. Mark's Church, Upland (1975 – 1983). Previously he was rector of St. John the Baptist Church in Corona (1970 – 1975).
Hall was a professor st St. Andrew's Theological School in Quezon City in the Philippines from 1962 to 1967, and chaplain at Easter School and Epiphany Mission in Baguio City, Philippines, after his ordination to the diaconate in June 1961. He was ordained to the priesthood in February 1962.
Richard Hall was born in upstate New York on Nov. 1, 1935. He graduated from Hamilton College and earned an M.Div. from General Theological Seminary. After his service in the Philippines he earned a doctorate in Philosophy of Religion at Claremont Graduate School.
The following is from the obituary published March 7 and 8 in the Los Angeles Times:
"His passion was community development, from teaching farmers to build with fieldstone, to founding the Corona Free Clinic, to leading the St. Barnabas Senior Center in Los Angeles. In retirement, Dick had an ardent interest in archaeology with digs in Mexico, Belize, Peru and Nicaragua. He delighted in cooking "from scratch," took pleasure in classical music, enjoyed trout fishing in the Sierras, and created ceramics inspired by pre-Inca motifs."
In lieu of flowers, the family suggests donations to St. Barnabas Senior Center of Los Angeles.