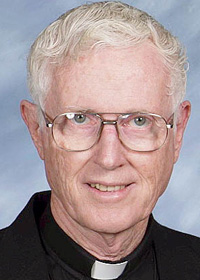 January 24, 1934 – April 19, 2020
The Rev. Richard Avery, retired assistant priest at Church of the Blessed Sacrament, Placentia, died in Corsicana, Texas, on April 19. He was 86.
A funeral service was held on April 23 at St. John's Episcopal Church, Corsicana.
Survivors include his wife, Marjorie Wygan Avery; his sons, Bart (Sandra) and Stephen (Annie); and five grandchildren.
Avery was known at Blessed Sacrament for his kind nature; a determination to know every parishioner by name; his devotion to pastoral care, particularly for the sick, the needy and shut-ins; and his trademark hat. He was a member of the Episcopal Synod of America and the Society of the Holy Cross.
Before his ministry at Blessed Sacrament, which began in 1994 and concluded in 2013, Avery assisted at St. Ambrose Church, Claremont from 1977 to 1980 and again from 1989 to 1994; at St. John's Church, La Verne, 1969 – 1976; Mt. Olive Church, Sylmar (now closed), 1966 – 1969. He began his ordained ministry as a curate at St. Paul's Church, San Diego (now St. Paul's Cathedral Church), from 1963 to 1966.
Born January 24, 1934 in Yuma, Arizona, Avery earned a bachelor's degree at California State University at San Diego in 1955, and a bachelor of divinity at Southern Methodist University in 1958. He also studied at Seabury-Western Theological Seminary in 1963 and California State Polytechnic University in 1976. Bishop F. Eric Bloy of the Diocese of Los Angeles ordained him to the diaconate on Sept. 5, 1963, and to the priesthood on March 12, 1964.