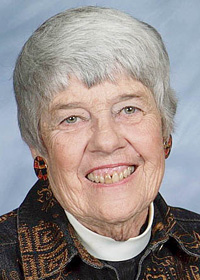 June 29, 1928 – July 17, 2018
The Rev. Canon Shirley Rose, former assistant at St. Matthias' Episcopal Church in Whittier, educator, and past chair of the Program Group on Christian Education and Leadership Training, died July 17. She was 90.
A service will be held at 1:30 p.m. on Thursday, August 2 at St. George's Episcopal Church, 23802 Avenida De La Carlota, Laguna Hills 92653 (949.837.4530).
Survivors include her husband of 60 years, the Rev. Roger Rose; sons Ted and Roger and daughter Mary; and grandchildren Sarah, Jenna, Davis, Mac, Mariela, and Marsden.
During her tenure as assisting priest at St. Matthias' Church, Rose spent a year in part-time ministry at St. Andrew's Lutheran Church, Whittier, where she helped the two congregations forge closer bonds through shared liturgies, a shared women's retreat, Stephen Ministry, and study of the Lutheran/Episcopal "Call to Common Mission" agreement. In an interview with The Episcopal News, she called it "a marvelous experience."
She also served at St. Edmund's Church, San Marino, 1994 – 1995 and again 1998 – 1999. Before entering the ordained ministry, she served St. Matthias' Church as director of religious education (1979 – 1987), and then as assistant priest from 1988 to 1998. Rose also was a diocese-appointed mentor to newly ordained clergy from 1998 to 2000 (and mentored others afterward unofficially).
The School of Theology at Claremont, her seminary alma mater, honored her as outstanding alumna in 1994 and established the Shirley J. Rose Scholarship. She was the first Episcopalian to be so honored.
She earned a bachelor of arts at the University of the Pacific in 1951, studied at the Union Theological Seminary in 1956, and earned a master of arts at Claremont Theological School/STC in 1984. She graduated from the Episcopal Theological School at Claremont in 1986. Bishop Suffragan Oliver B. Garver ordained her to the diaconate in June 1987 and to the priesthood in January 1988.
She was the author of several published articles, including "Focus On Galations" in Living the Good News (1989), and "Go in Peace: Diocesan Peace Curriculum" (1991).
The Rt. Rev. Frederick H. Borsch, fifth bishop of Los Angeles, named her an honorary canon of the Cathedral Center in 1993.