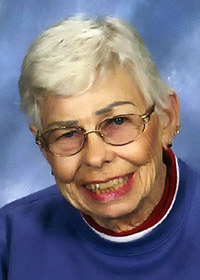 July 20, 1930 – December 25, 2011
Sue Ashbrook, member of St. Peter's Church, Santa Maria, diocesan Episcopal Church Women and Daughters of the King leader, and widow of the late Rev. Hal C. Ashbrook, died on Christmas morning after a long illness. She was 81.
Services will be held at St. Peter's Episcopal Church at 402 S. Lincoln, Santa Maria, CA 93458 on Saturday, Jan. 21 at 2 p.m. A reception will follow in the parish hall of the church.
Survivors include her three children, Alan Stanley Bibbero (Trina), Anne Elizabeth Scott, and Donald William Bibbero (Laurie); grandchildren Shannon Leigh Bibbero, Nicole Marie Bibbero and Dillan Kai Scott; a sister, Mary McCrae (Bob), many nephews and a niece; and her friend, housemate and companion Esther H. Moon.
Her long service to congregations and diocesan organizations included being at various times on the vestry of four congregations; serving as a lay reader and lay Eucharistic minister, and leading outreach ministries. When her husband was assisting at St. Nicholas' Church, Encino, she directed the altar guild for five years, worked with the AIDS ministry feeding program at L.A. County Hospital, and was president of the St. Nicholas chapter of DOK. When the Ashbrooks were at St. Andrew & St. Charles Church, Granada Hills, she was the chief shopper for the parish food pantry and fed the homeless at the local park in addition to her work with the AIDS program.
She served as recording secretary for the diocesan DOK and for the diocesan ECW. In 2000, she was a delegate to the ECW Triennial, meeting in Denver.
In addition to her many church ministries, Sue Ashbrook was active in the community, working as a docent at the L.A. Zoo for ten years. After she retired and moved to Santa Maria in 2000, she joined the board of the Santa Maria Philharmonic, Coastal Voices and the Santa Maria Arts Council. She volunteered at the Santa Maria Humane Society as an animal educator for the local schools.
She was born in Fallon, Nevada on July 20, 1930. Her family moved to Denver, Colorado, early in 1931, and she lived there until her first marriage, when she moved to California. When her children were in their teens, she enrolled in California State University at Northridge, where she earned a degree in English. She became a teacher at Campbell Hall, the Episcopal Church-affiliated school in North Hollywood.
She was married in 1977 to the Rev. Hal C. Ashbrook, and shared his ministry until his death in 1989.
In lieu of flowers, her family suggests that memorial donations be made to the rector's discretionary fund or the general parish fund at St. Peter's Church, Santa Maria.