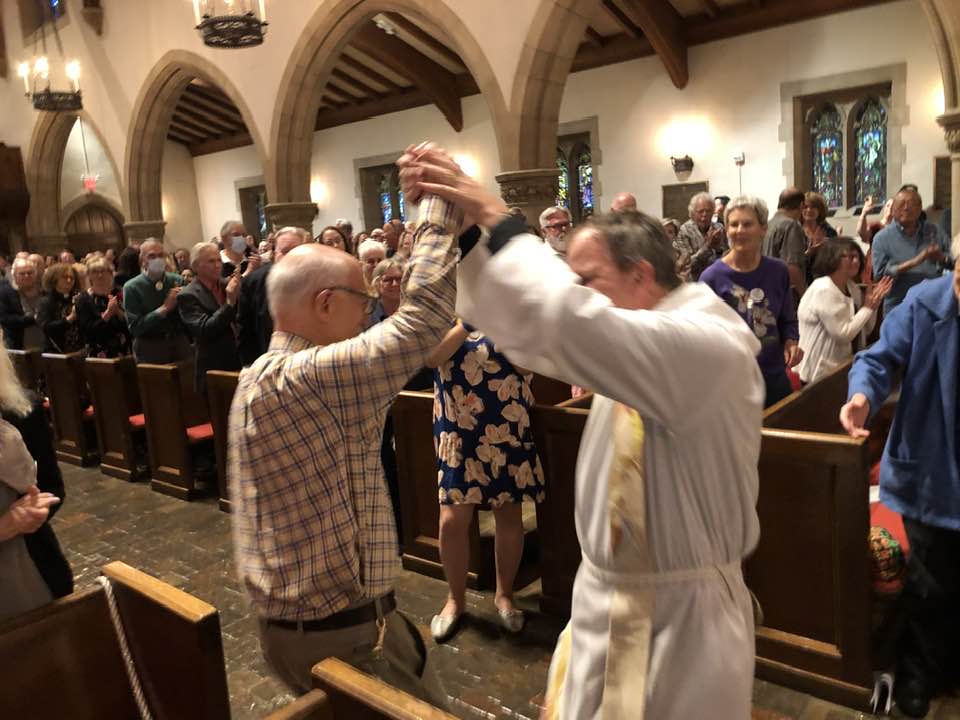 The darkness will never overcome the light. By our faith and God's grace, hate never wins. So this Sunday in Eastertide, a bomb threat against All Saints Episcopal Church Pasadena, and a homophobic death threat against the pro-justice ministry of its rector, the Rev. Mike Kinman, had Mike and his people dancing in the aisle to Whitney Houston's version of "Higher Love."
Prudence comes before partying when it comes to credible threats. After they came in early in the week, All Saints consulted experts and resolved to proceed with two services this morning, at 7:30 and 10 a.m. I was blessed to be aboard for both. They scaled back liturgical forces and turned up security a notch and urged anyone who was nervous to worship from home. Thank you, COVID, for honing that capacity at most of our churches. The big building was nevertheless full of people and the Holy Spirit this morning.
All Saints has long been a leader in supporting justice across all barriers of orientation and identification. Between services, legendary justice laborer the Rev. Canon Susan Russell of the All Saints and diocesan staffs assisted our siblings at CLUE: Clergy and Laity United for Economic Justice and the Los Angeles Council of Religious Leaders, called together by our president, Rabbi Sarah Hronsky, in organizing a rally in support of All Saints and LGBTQ+ equity.
I was honored to to add my voice to the chorus they raised — only to get home just in time to hear Stevie Winwood and an international chorus sing his composition, "Higher Love," at the coronation concert. They rocked Windsor as his song had rocked us. Mike Kinman addressed the words to us all and even to those who'd made the threats, in case they had tuned in:
Think about it, there must be a higher love
Down in the heart or hidden in the stars above
Without it, life is wasted time
Look inside your heart, and I'll look inside mine.