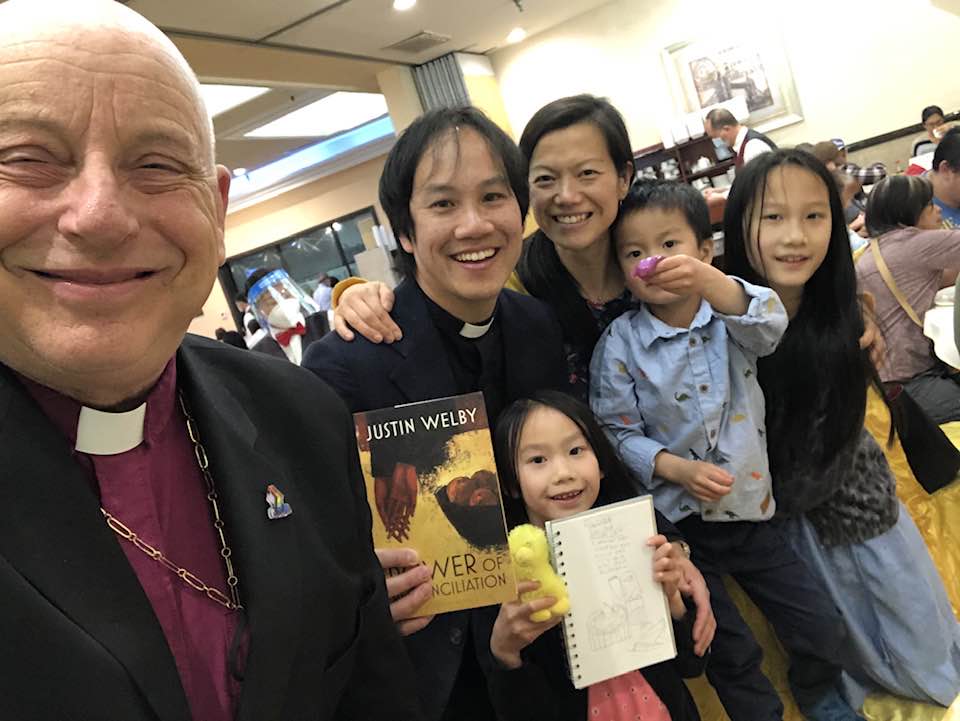 A fourth generation Welshman of Chinese descent, the Rev. Mark Nam, who serves a parish in the Diocese of Bristol, is rooted in four cultures — Wales, Great Britain, the Church of England, and the Chinese diaspora. He feels the Holy Spirit's invitation to find ways to make those with East Asian and especially Hong Kong backgrounds more noticed and more at home in the COE and, in a majority white culture, their neighborhoods and workplaces.
He's on a fact-finding visit around The Episcopal Church with his spouse, Kayi, and their three delightful children (whom Kayi home schools) and will submit a report on TEC's work with Chinese background cohorts that we can be pretty sure sure Archbishop of Canterbury Justin Welby will read.
Indeed Mark brought me an inscribed copy of one of +Justin Cantuar's book.
Over dim sum in Monterey Park this morning, Mark compared notes with our amazing leaders of Chinese-speaking congregations — the Rev. Canon Ada Wong-Nagata, the Rev. Drs. Fennie Hsin-Fen Chang and Thomas Ni, and the Rev. Katherine Feng — and me. Our conversation revealed a broad range of common interests and budding collaborations while enabling Kayi and Mark's son, Jamie, and me to find time to play with his purple goo.