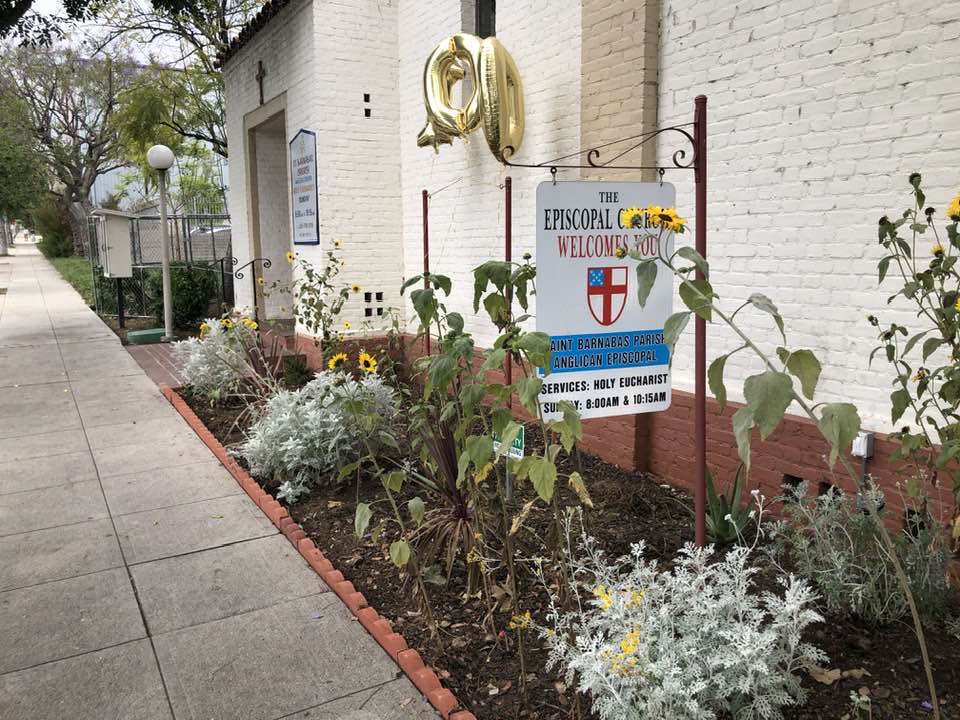 At the turn of the last century, when people of African descent weren't welcome at All Saints Episcopal Church Pasadena (where prophets of equity now dwell), some believers whom that injustice had scattered gathered to pray and begin to plan at Georgia Weatherton's house in Pasadena. Georgia is now remembered as one of the eight matriarchs of the St. Barnabas Episcopal Church – Pasadena, CA family, who celebrated their centenary on Sunday in grand style.
The founding meeting was in 1908. While the cornerstone of the beautiful church on North Fair Oaks Ave. says 1933, the first services were in 1923 at a private home on Del Mar. According to the careful planning of event chair and lifelong parish member Marco White, the 100th was held on the feast day of the great saint himself.
His story fits to a B. The book of Acts discloses that the church in Jerusalem sent Barnabas to Antioch to investigate its transformative ministry to the Gentiles — which is to say non-Jews, which is to say the whole world. Like St. Barnabas parish, the ministry in Antioch was the work of believers who had been scattered — in their case, because of persecutions that followed the martyrdom of St. Stephen. So Stephen's blood watered such seeds that, even in these said-to-be secularizing times, 2.6 billion people call themselves Christians, 44 million more than a year ago.
One can think of other instances of how those scattered and dispersed by malice and prejudice manage to take root, survive, and thrive, still glorifying God and caring for God's people. St. Barnabas' party coincided with the L.A. Pride parade, where the Rt. Rev. Katharine Jefferts Schori, former presiding bishop of The Episcopal Church, led a cohort of LGBTQ+ folks and their allies — all believers whom Christianity's prejudices scattered for thousands of years. Though we Episco-Pals are not the larger part of the church, we are the ones who, at long last, have come to proclaim that the image of God is large enough to contain every human expression. The struggle isn't over. But their witness at Pride on Sunday, like the partiers' in Pasadena, was surely evidence of the durability of God's love.
I was along at St. Barnabas to preach, celebrate, speak at a program before lunch, and have as many wonderful conversations around this extended family as I could over friend chicken, mac and cheese, and collard greens. The wise, gracious priest in charge, the Rev. V.R. Marianne Zahn, handled countless details. The Rev. Golie Haynes assists her. As always, veteran lay leader Robert Edwards served expertly as my chaplain. My first liturgical duty was censing and blessing a chancel cross he had fashioned in memory of his mother-in-law, Edna Pierre Hodgson. The Rev. Canon Jamesetta Hammons, who served this parish for many years, was back as deacon of the mass. Canon Andy Tomat, friend of the parish and the hardest working volunteer diocesan treasurer in show business, smiled joyfully all day. It was a joy and blessing beyond words to see Mary Regas in church, spouse of the late George Regas, who made no peace with prejudice when he was rector of All Saints.
At lunch the speakers included Rep. Judy Chu, Pasadena city council member Justin Jones, and Assembly member Chris Holden. Parish historian Michael Mims and lifelong member Sylvia Wiggins shared priceless stories. Offering the invocation were Bishop Ernesto Sanchez and Fr. Carlos Mojica, whose Catholic Apostolic Community Church nests at St. Barnabas.
I spent lunchtime with Jonathan Williams, parish treasurer these 15 years, as well as Marco, his brother, Dino, who admits to being a former St. Barnabas acolyte, and other members of their family. An IT expert, entrepreneur, and former Los Angeles Dodgers executive, Marco introduced me to his daughters Natalie (about to get her second masters, this one from Columbia, in urban planning, with a focus on affordable housing) and Whitney (a consultant who works for a collaborative project supporting women entrepreneurs in my hometown of Detroit). They beamed with pride, seeing what their father had wrought on Sunday, setting the stage for St. Barnabas' second century. The believers who were scattered just can't help but blossom.