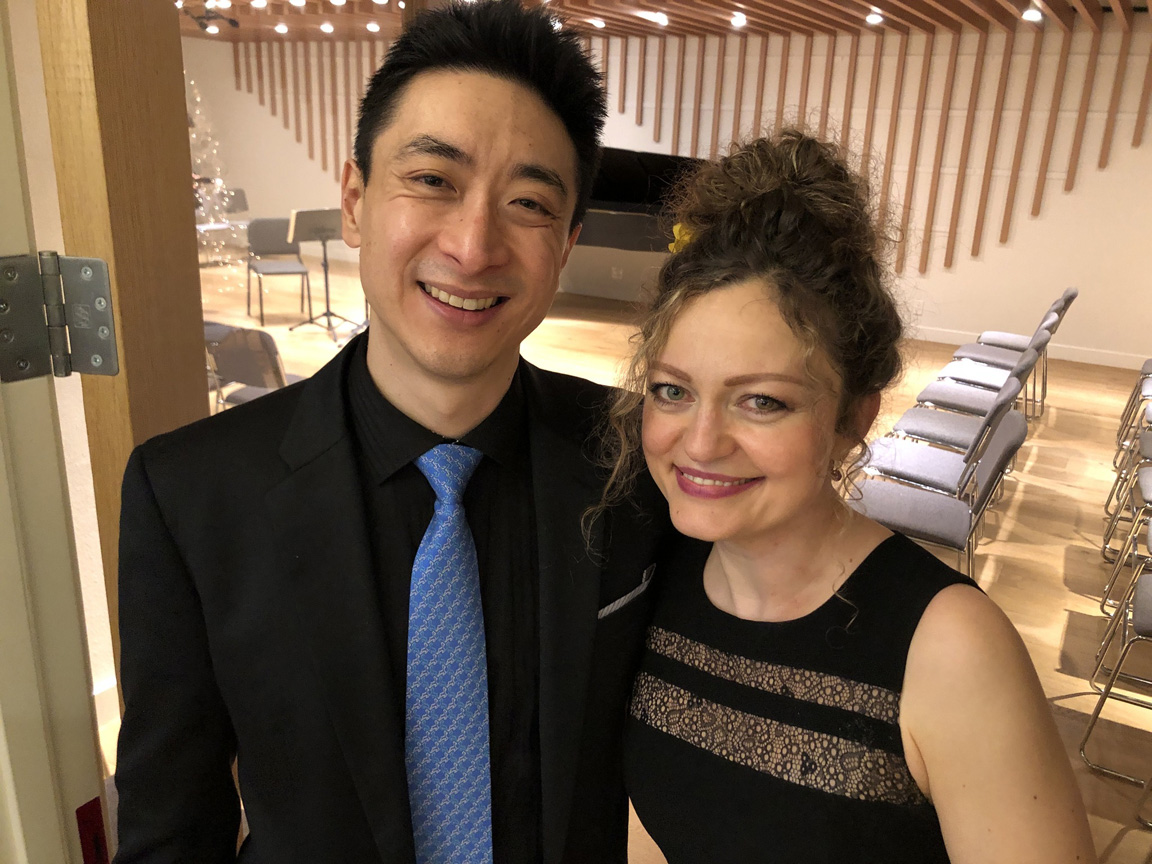 Ukrainian composer Vasyl Barvinsky, who died in 1963, was jailed by Stalin for ten years, for imaginary political crimes of the type that paranoid tyrants make up. He founded a secondary school in Lviv for aspiring musicians which was attended by the father of Ukraine-born violinist Iryna Krechkovsky Loucks, a member of Orange County's acclaimed Trio Céleste and co-founder, with spouse and pianist Kevin Kwan Loucks and longtime friend and cellist Ross Gasworth, of Chamber Music OC, now celebrating its 10th anniversary.
Iryna's dad was her first music teacher. Another cruel Kremlin tyrant now victimizes their country. So it was especially poignant when she introduced the first work in Trio Celeste's concert last night at CMOC's new headquarters and performance space in Lake Forest. It was the second movement, called "Lullaby," sweet and lyrical, from Barvinsky's String Trio in Am. You can find a performance on YouTube. But it won't sound like it did last night, when all the angels in heaven were humming along even as they do their best to lend warmth to Ukraine's suffering people during their worst winter since Stalin's evil days.
They also played a trio by Swiss composer Frank Martin based on themes from Irish folk music and, for their 24th time in public, they said, Mendelssohn's beloved Piano Trio in Dm. My elder daughter Valerie Passarella, who runs the new city cultural center in Yorba Linda, and I were in the audience, along with the angels. It was fun to introduce Valerie to my fellow former CMOC board member and legendary former City of Irvine councilmember Beth Krom.
I got to know Iryna, Kevin, and Ross during my days at St John Chrysostom Church in Rancho Santa Margarita. Besides being brilliant musicians and the kindest people imaginable, they are devoted teachers and mentors. In last night's audience were more than a few young people with their eyes fixed on six furiously sawing, flying, and pounding hands. I'll bet I'm not the only one who spotted Iryna's notes to self on her Mendelssohn score.
They're also fierce evangelists for chamber music. If we in the church sometimes feel overlooked by the prevailing culture, imagine being a classical musician. Half their concerts are for free, including periodic appearances at Church of the Epiphany in Oak Park, where the Rev. Canon Melissa McCarthy used to play host.
As with all music superstars, this trinity is always on the go. Also serving as CEO of Chamber Music America, Kevin is back and forth between Orange County and New York City. Their new setup in Lake Forest is suitable for outside concerts and recording, already hundreds of performances and sessions a year. Kevin's Steinway will get another workout tonight at 6 p.m., when pianist Steven Vanhauwaert performs with cellist Clive Greensmith. I bet some angels will still be hanging around. Check out this wonderful operation at www.chambermusic.org.