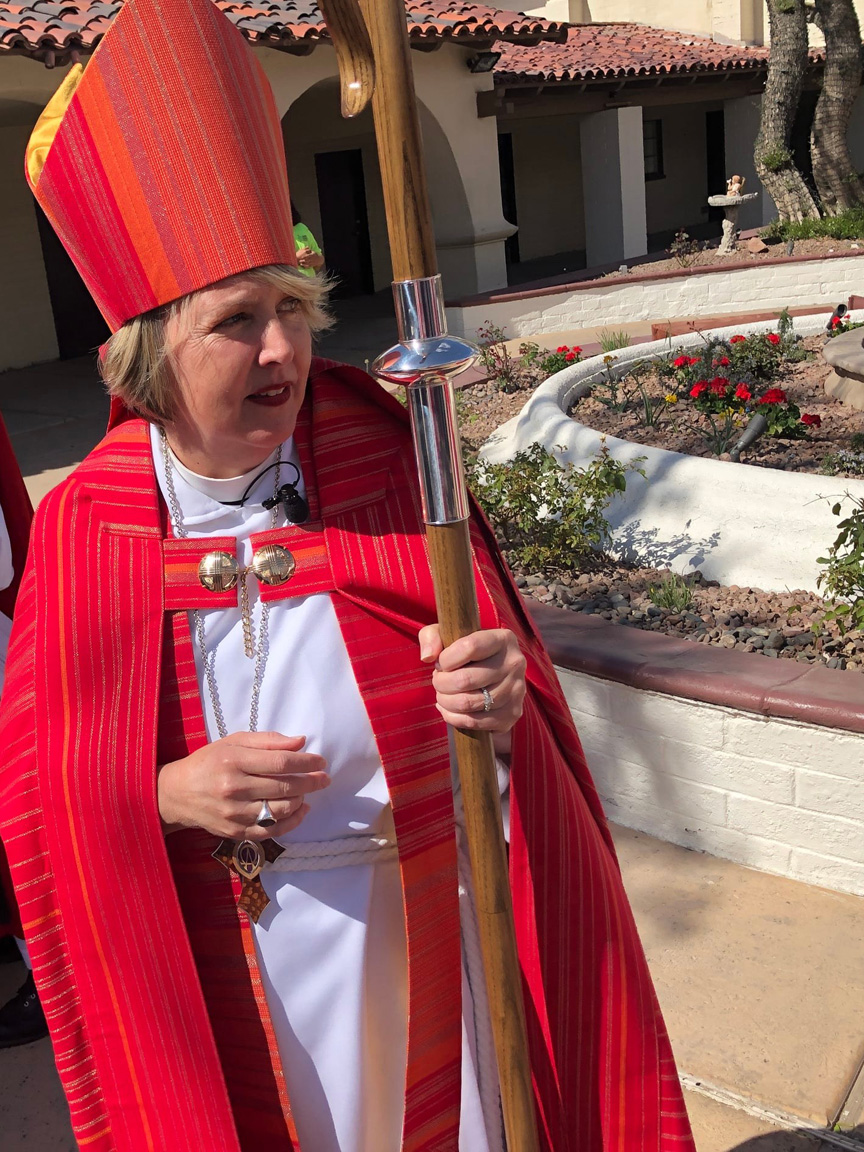 San Diego-raised Elizabeth Bonforte Gardner studied political science at University of California, Santa Barbara and spent time lobbying and consulting in Washington before becoming a priest. Former rector of St. Andrew's Episcopal Church, Alexandria, she pioneered innovative structures for collaborative mission and ministry during the pandemic.
On a beautiful windy morning at Christ Church Episcopal in Las Vegas, with most of Elizabeth's diocese tuning in on-line, the Holy Spirit made her the 11th bishop of the Episcopal Diocese of Nevada. Her co-consecrators included ten and nine, the Rt. Revs. Dan Edwards and Katharine Jefferts Schori, the former presiding bishop, who told Canon Kathy Hannigan O'Connor and me that she's loving her Sunday visits around the Episcopal Diocese of Los Angeles.
Also aboard from Los Angeles was the Rev. Michael Foley, who's in a clergy fellowship group with Bishop Gardner that hasn't missed a meeting for 83 straight months. Another group member was today's thoughtful preacher, the Rev. Dr. Donna Mote, rector of St. Paul's, Key West, who said that Elizabeth will be like Melchizedek, meeting people where they are rather than waiting for them to come to the temple.
Presiding Bishop Michael B. Curry was in magnificent form as usual, assisted by the Rev. Canon E Mark Stevenson, the Rev. Molly James on behalf of the office of General Convention (who supervised the intricate business of getting everyone's wax seal on the ordination and consecration certificates), and the PB's incomparable adjutant, Sharon Jones.
I took a photo of him and the Rt. Rev. Kimberly Lucas, bishop of Colorado, that, I must say, belongs on a billboard. It was the Nevada light streaming into the Christ Church library! Kym and I compared notes about how much we love the Rev. Lili Howard Bush, former vicar of St. Paul's, Barstow, now serving in Colorado. The Rt. Rev. David Bailey said he appreciated all the support he gets from EDLA folk for the Episcopal Church in Navajoland (ECN), where the bulk of his discretionary funds during the winter go to help folks pay for coal and wood.