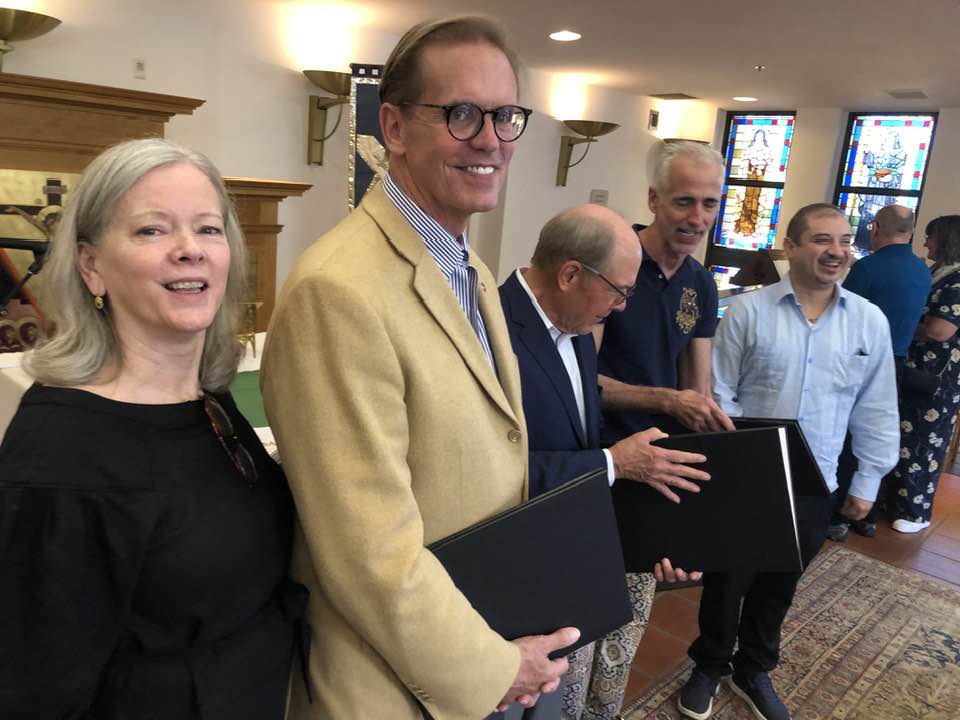 EfM Education for Ministry students, mostly lay leaders in The Episcopal Church, spend four years studying scripture, church history, and Christian ethics — not a seminary education, but a solid grounding in the core of our Anglican Episcopal faith that enables one to teach and preach.
This morning at St. Paul's Commons, Echo Park, I had the privilege of presiding as 22 members of the latest cohort, representing eight churches and two on-line groups, were graduated — they who had spent more than half of the program working around pandemic strictures. A few weren't present because they'd Zoomed in for classes, including Ashley England, formerly of my old hang at St John Chrysostom Church in Rancho Santa Margarita, now living with her family in Texas. Other friends from the St. John's group were Chacon Juan, Scotty King, and Barbara Mysko. Their mentor and co-mentors were Wayne Kempe, Rich Stratton, and BJ Sullivan (all prior graduates, like all EfM mentors).
Our preacher was Lavinia Henley from St. Cross Episcopal Church in Hermosa Beach, aboard with her mentor, Susan Tucker. Lavinia's bracing testimony proved that EfM is good enough for homiletic work. She commended her fellow graduates and all of us (many family and friends were there in support) to make the most of what we'd learned about our canon and traditions. Aptly citing our reading from John's gospel, she wrapped up by saying, "Rise, let us be on our way."
Devoted EfM Education for Ministry in Greater Los Angeles coordinator these five years, Gary Leonard, stood beaming before serving as a chalice bearer. Grace Chung was organist. Her and Gary's friend and colleague from All Saints Episcopal Church Pasadena, Melissa Hayes, was crucifer, plus I asked her to take the deacon's part and dismiss us. Marjorie Cooley, director of the diocesan Altar Guild, made sure everything was perfect, as always.
In my welcome, I said that those ordained in The Episcopal Chruch are required to proclaim, and expected to believe, that Holy Scripture contains all things necessary for salvation. If that is the case, then laypeople are entitled to know it just as well. And a thriving church will need them to, since surveys show churches that grow have vigorous Bible-based teaching. Moving into the second quarter of the 21st century, we'll be relying more and more on well-educated lay leaders and therefore on programs like EfM.