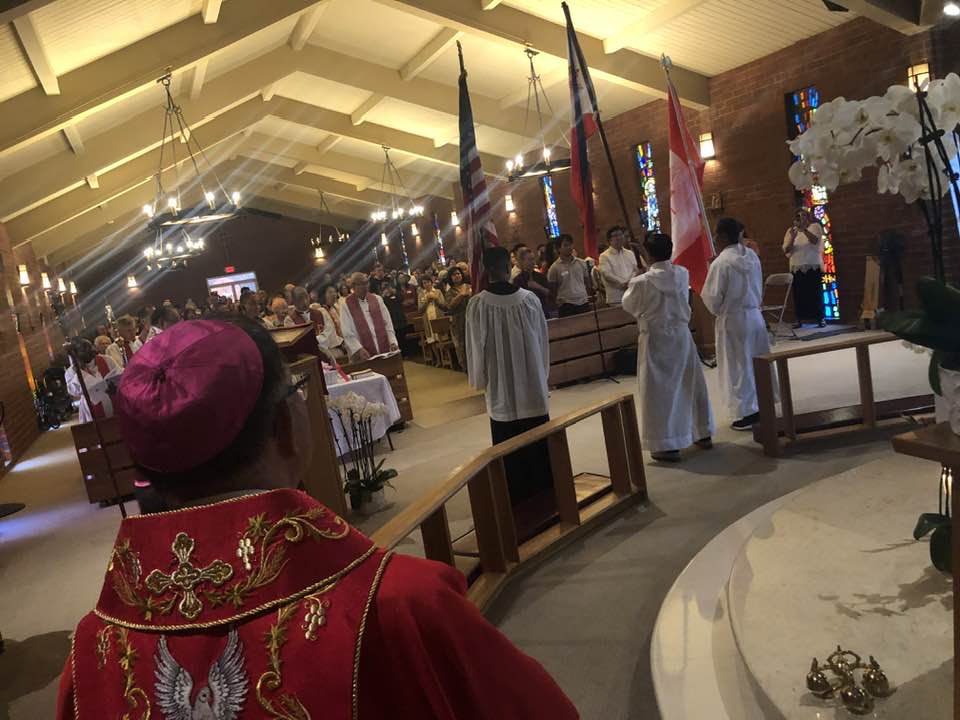 My scrapbook from Sunday afternoon's installation service for our colleague the Rt. Rev. Gerry Engnan of the Iglesia Filipina Independiente's (PIC) Diocese of the Western U.S., Canada, and the Pacific Islands and bishop in charge at St. John's Episcopal Church + Holy Child Philippine Independent Church in Wilmington, where PIC and Episcopal Church members worship side by side under an historic 62-year-old concordat.
TEC is historically associated with colonialism, including in the Philippines. The PIC's revolutionary, post-colonial bona fides are powerful. The concordat is one of the 20th century great ecumenical achievements.
Sunday's service, where Bishop Gerry invited me to offer a message, was at the PIC's Cathedral of the Immaculate Conception in Van Nuys, which on Sunday mornings we call St. Mark's Episcopal Church and, on most Sunday afternoons, the Ugandan Community Church — more practical ecumenism in action. Other speakers included the former St. Mark's rector, the Rev. Canon Norman Hull, and the Rev. Joy Magala, who co-pastors the UCC.
The PIC's dynamic obispo maximo, the Most Rev. Joel Porlares, gave an invigorating homily about walking hand in hand in the unity of the body of Christ. That was surely the theme of Sunday's 150-minute liturgy, featuring laity, bishops, deacons, and priests from multiple denominations and culminating with three stirring national anthem sings — Philippine, Canadian, and U.S. Also participating were the Rt. Rev. Artemio Zabala and the Rev. Brent Quines Jr. and the Rev. Jonathan Sy of Holy Trinity-St. Benedict Episcopal Church in Alhambra and St. Hilary's Episcopal Church in Hesperia.