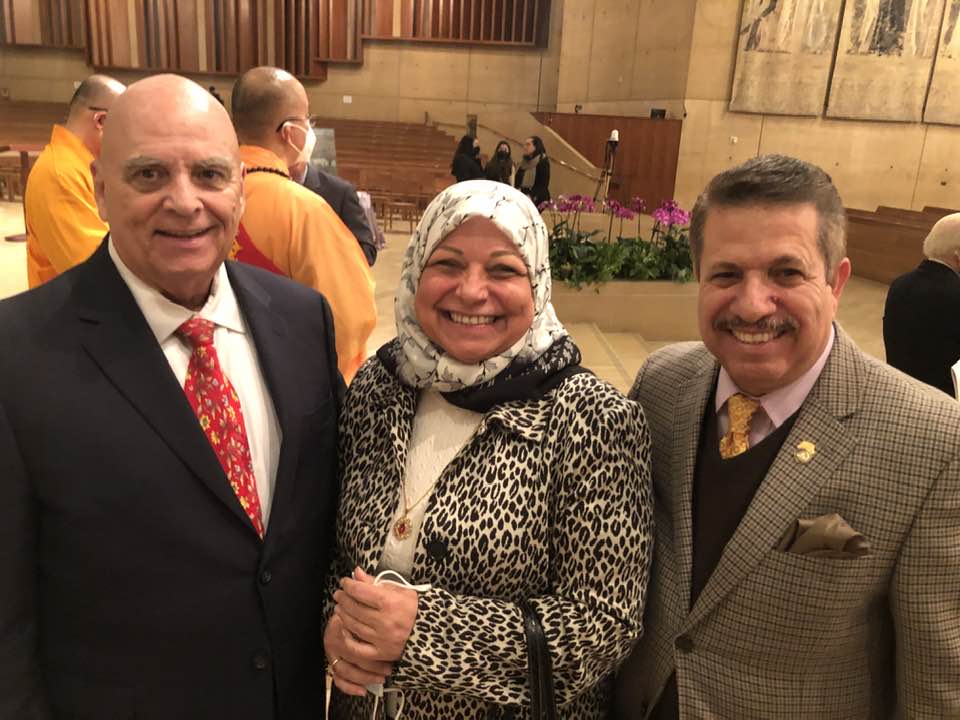 By the end of November, 1,400 unhoused people had died in Los Angeles County. Tonight, the longest night of the year, at an interfaith-ecumenical service at Cathedral of Our Lady of the Angels in downtown Los Angeles, we didn't read every name. But we had five minutes of silence to meditate over the list, alphabetized by first name and printed in our bulletin.
The names took up 21 pages. My hands fell over those with the names Jesus (seven entries) and John (16). So I brought home a luminarium lit in memory of Jesus Ruiz Flores and just spent a few minutes trying to find news of his death on-line. No luck – especially for Jesus. Yet imagine his parents' hopes the day they made him a namesake of our Lord.
Archbishop Jose H. Gomez was our host, with every detail overseen by the archdiocese's devoted interfaith officer, Fr. Alexei Smith. A dozen members of our little community of interfaith and ecumenical leaders got to light candles while the congregation looked on. Among the speakers were Pastor Stephanie P. Jaeger, Ph.D of St. Matthew's Lutheran Church, North Hollywood, who raised the roof with her witness about serving those on the streets, and Hedab Tarifi, past president of the Islamic Center of Southern California, who gave us a primer on the Holy Koran's social justice imperatives. Speakers offered Jewish and Buddhist perspectives as well.
It was a blessing to meet Los Angeles-born activist Ammon Hennacy and others from Los Angeles Catholic Worker, who said they know and love my friends Dwight and Leia Smith from Orange County Catholic Worker – Isaiah House. I also made friends with Jess Echeverry, founder and executive director of Sofesa, a housing justice nonprofit, and her spouse, Deacon Charlie, who read the gospel at the service – the parable of the Good Samaritan, appropriately enough.
That everyone, across all barriers of doctrine and belief, agreed on the commandment to work for the dignity and care of every human being doesn't make the politics any easier. Which is why it was a special blessing that Mayor Karen Bass was present. She's devoted the early weeks of her administration to cutting the bureaucratic red tape that's been keeping LA's 40,000 unhoused people out of shelters and thousands of housing units from being built.
Archbishop Gomez paid her a moving tribute at the beginning of his homily. Afterward I thanked her for inspiring us all. Before I left the great cathedral, I said a word of thanks to God for all the missions and parishes around the Episcopal Diocese of Los Angeles that hope to build affordable housing on vacant real estate. For theirs is the spirit and promise of Christmas.