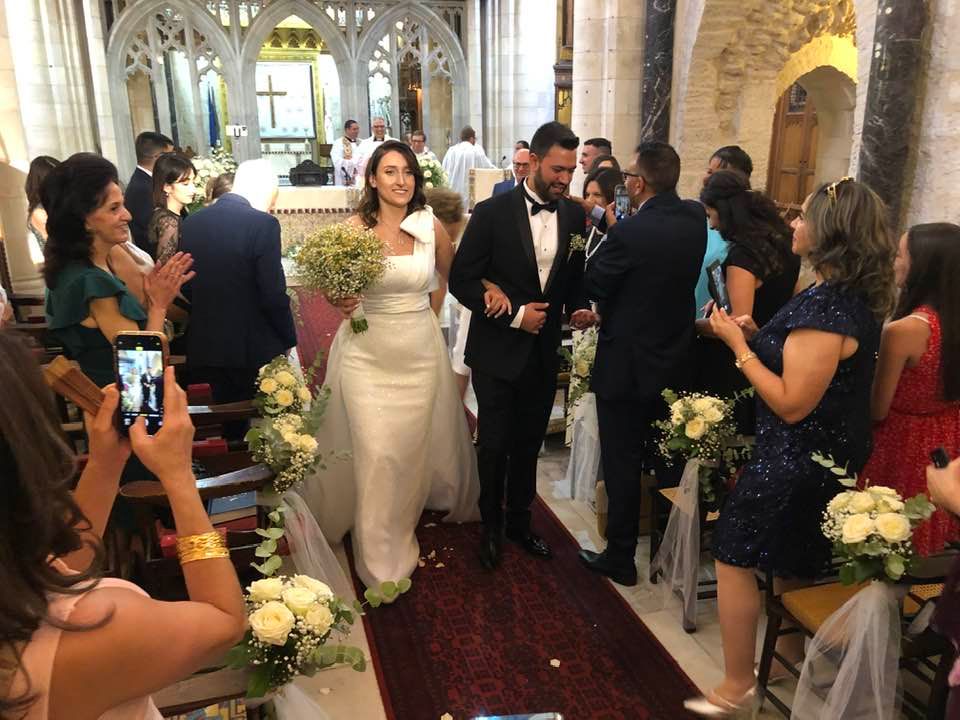 A few scenes from the blessing of the marriage of Sami and Seka Qumri Saturday at St. George's Cathedral, Jerusalem in East Jerusalem, with the Most Rev. Hosam Rafa Naoum, archbishop of Jerusalem, presiding and his predecessor, the Rt. Rev. Suheil Dawani, assisting.
The bride and groom are business executives. She's from Bosnia. To honor her family's traditions, as her parents and brothers looked on, Archbishop Hosam and the Rev. Canon Fuad Dagher chanted an Eastern Orthodox prayer. Afterward the archbishop used the miracle of Google to exchange greetings with the father of the bride.
At the reception, Sam and Seka arrived to drums, bagpipes, and chanting and danced for two hours before even sitting down, mostly to Arabic house music, with the DJ brilliantly sampling Stevie Nicks' "Edge of Seventeen" at one point. The Rt. Revs. Gayle Harris of Massachuetts and Ed Konieczny of Oklahoma and I joined Suheil on the dance floor as well as the parents of the groom, Canon Iyad and Simone Qumri, whose own sacred story began when they worked together at St. George's.
Dinner conversations were with the Rev. Canon Don Binder, an expert in New Testament archaeology who has been Hosam's adjutant these four years; the Rev. Canon John Peterson, former dean of St. George's College and secretary general of the Anglican Communion, who offered fascinating insights about The Lambeth Conference in 1998; and Fuad and Hana Dagher, longtime friends of the Episcopal Diocese of Los Angeles. Fuad is a highly respected priest in the The Episcopal Diocese of Jerusalem, Hana a civil engineer.
The Qumri and Daghers have hundreds of friends in our diocese, especially pilgrims to Israel and Palestine, whom it was my privilege to represent. Everyone was aware of how much Iyad's friend and mentor Bishop Jon Bruno, who watched Sami and his brother, Rami Iyad Qumri, grow up, would have relished the evening. We also talked about how much everyone misses Canon Sandy Smock, one of our Los Angeles prophets for peace, while giving thanks for the way Canon Sue Smock carries on for them both.
Another sadness was my conversation with Fuad and Hana, whose ministry is at a church in Galilee, about worsening conditions for Israel's Arab citizens. They're wondering who's behind recent attacks on a successful local Palestinian-owned business. For generations, fraternal relationships among Israel's Jewish and Arab neighbors were stronger than outsiders might have expected. Lately tensions are running high, especially in mixed population cities, where violence erupted last year.
Polarization is a global pandemic, of course. It's sad that it's getting worse in the land of the Holy One, where young people, especially Palestinian Christians, though dancing up a storm last night in East Jerusalem, may be having more and more trouble keeping hope alive in their hearts.