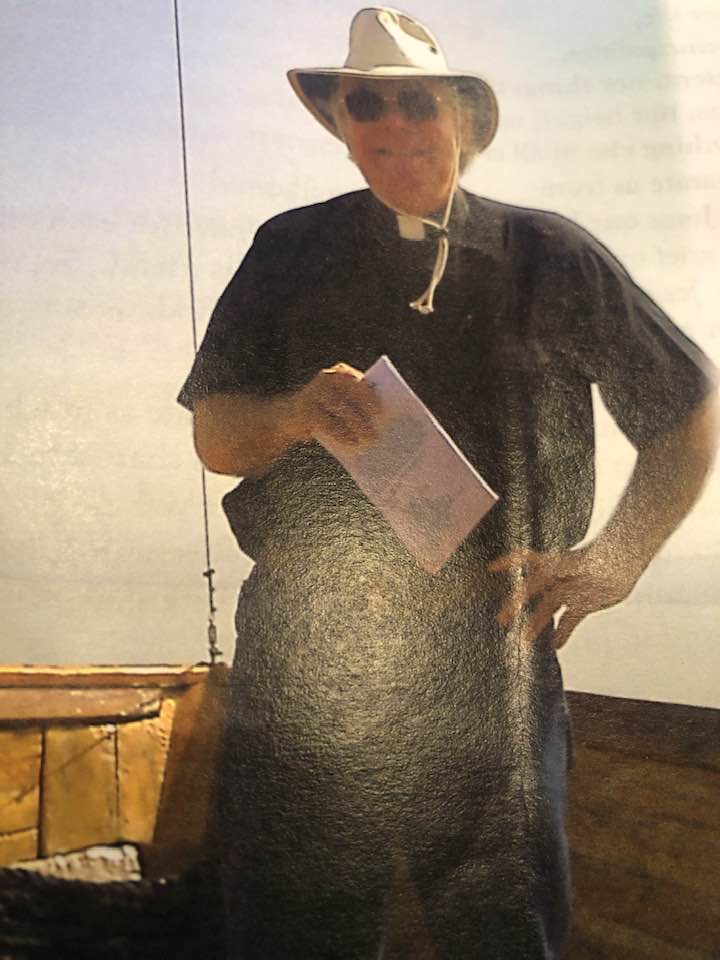 Twenty years ago, when the Rev. John Conrad was serving as rector of a parish in El Cajon, in San Diego county, he found an unhoused couple sleeping on the grounds one morning. Instead of rousting them, as his predecessor and the other pastors in the neighborhood had been doing, he invited them in to clean up. Then, he said, "we'll see if there's anything interesting in the fridge."
Before long 150 people had pitched their tents on church grounds. John's relentless witness persuaded city officials to establish a temporary shelter. A non-profit shelter soon followed, which persists to this day.
Born into a newspapering family in Victorville, John died last month after a brief battle with cancer, leaving his wife of 13 years, Shannon, and grown children by a prior marriage. His last cure before retirement was as rector of All Saints Riverside, where he was succeeded by his friend the Rev. Canon Kelli Grace Kurtz, who designed a lovely celebration of life for John on Saturday. John's hand was also in every detail. He graciously invited me to preach and celebrate. I sang his prophetic witness for the unhoused and his ministry of leading pilgrimages to the Holy land and advocating for justice for our Palestinian siblings.
Before ordination, John was a pilot, working in fraught conditions. A dozen or more of his fellow Quiet Birdmen, a tightlipped airmen's order, were aboard Saturday, along with a contingent from the Riverside Art Museum, friends of Shannon, who told me the fascinating story of comedian Cheech Marin's collection of Chicano art ending up in Riverside.
For the end of the service, Kelli Grace and the people of All Saints acceded to John's request for a bagpiper, mariachis, and a taco truck. For the service, he chose the famous reading from Ecclesiastes with the teaching that there's a time to weep and a time to laugh. John Conrad, who had no doubt that his soul would speed to the heart of Christ, enabled both mourning and joy on Saturday for those he loved and who loved him.