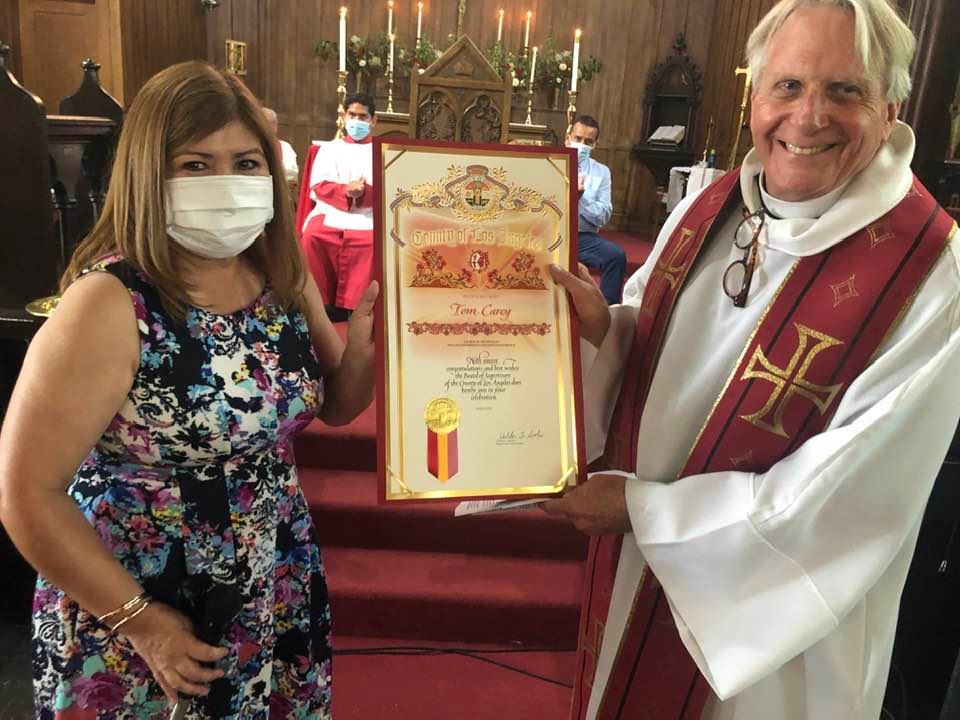 The son of Harry Carey Jr., whose 90+ film credits included "The Searchers," "Red River," and "Rio Bravo," the Very Rev. Thomas Carey, retiring next week as vicar of historic Church of the Epiphany, Los Angeles in Lincoln Heights, admits to being a showman at heart.
He played in a band in middle school and caught the theater bug in high school. In the late seventies and early eighties, he headed to New York City and fronted a punk band, "The Beeks," which played from the same stage at CBGB as Blondie and the Talking Heads. He was in some off-Broadway plays as well. But God doesn't mind a bit of show business. Not long after a friend invited him to the Church of the Good Shepherd NYC (Episcopal) in Manhattan (Al Roker's parish these days), he was recast as a seminarian, priest, and an Anglican Franciscan monk.
With Tom's friends and colleagues getting sick and dying from HIV-AIDS, it was a spirituality complex time. The Holy Spirit put it all to work for God's glory and the sake of God's people. After Tom had served at two churches in New York, Bishop Jon Bruno appointed him as Epiphany's vicar 12 years ago.
He's given up being a monk but never his priesthood nor his hunger for justice and equity. Tom's marched for immigrant worker rights and Black Lives Matter and served faithfully as a board member of The Gooden Center, which provides addiction and mental health services. He leased the church's rectory to an organization that cares for victims of domestic abuse. The day I was elected bishop in December 2016, I promised Tom I'd back the activist priests whenever I could. It's been my blessing to be his fellow demonstrator, marcher, and traveler, including on a Christmastime 2018 visit to a refugee camp in Tijuana.
Today was Tom's penultimate day at Epiphany. I was along for the bilingual service to preach, celebrate (Holy Eucharist, Father's Day, and Juneteenth), mediate the Holy Spirit's work during Erika, Mitsy, and Oscar's confirmations, and lift up the self-effacing Tom even as he leaned over backward to share the credit.
Over the last four years, he's spearheaded an effort to raise $1 million to renovate and rehabilitate Epiphany, which over a half-century ago was a focal point of the Chicano and farmworker rights movements. Thanks to Tom and his fellow mission leaders, Epiphany is now listed on the National Register of Historic Places – NPS.
And history is everywhere you look. After church, with consulting architects Frank Escher and Ravi GuneWardena, we visited the church basement, where "La Raza," LA's Chicano newspaper, was published beginning in 1968. It's now a beautiful office and working space, available to community organizations.
During a festive lunch after church, I got caught up with one of Epiphany's partner organizations, The Wall Las Memorias, a community health and wellness organization, thanks to a rich conversation with its founder and executive director, Richard L. Zaldivar. He's interested in rebuilding faith community networks to get HIV-AIDS prevention resources to second-and third-generation Latinos and Latinas. Also aboard were union and historic preservation leaders who supported the Epiphany project and staffers for Supervisor Hilda Solis, all friends of Tom, all girding themselves for next Sunday's farewell.
It was a joy to be with Tom's sister Lily and her daughter, Vanessa, and with Tom's legendary colleague the Rev. Richard Estrada, the mission's "justice now" minister, and their newly ordained colleague, the Rev. Jose Luis Garcia. Serving as my chaplain was junior warden Rigoberto Herrera, who labored long hours preparing Epiphany for its next 50 years of worship and service. And taking up his Martin to lead the final song of our service, a toe-tapper which speaks to the heart of our age, was the vicar himself, singing his own composition "I Had An Epiphany":
We've come too far
We can't go back
Nothing can stop us
We'll walk straight past
We've come too far
It's the middle of the night
And you are the light.