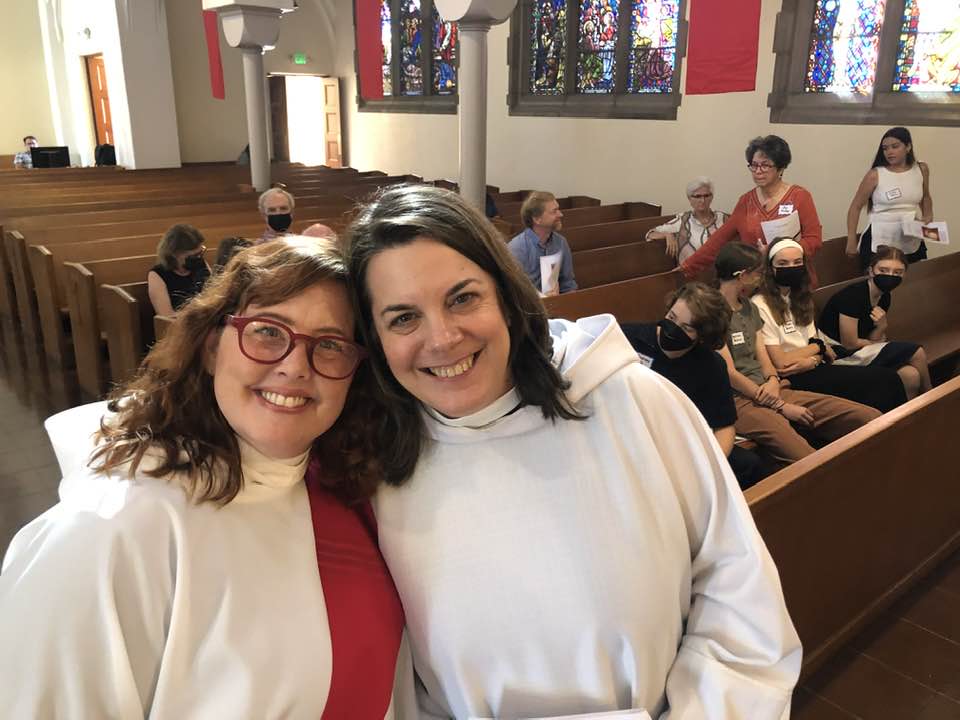 When I visited St. James' Episcopal Church- South Pasadena, CA on Sunday to preach and preside, the wardens and vestry gave me the privilege and blessing of announcing that they had called the Rev. Dr. Michelle Baker-Wright as their priest in charge. She'll provide wise, creative leadership as the parish searches for its next rector, succeeding the Rev. Canon Anne Tumilty, who retired last spring.
Formed for ordained ministry at St. James', Michelle — born in Seattle, with deep family roots in southern California — is a musicologist and composer who serves as co-chair of the Episcopal Diocese of Los Angeles' Commission on Liturgy and Music. Among other things, we compared notes about officiating and performing at off-site weddings; Michelle started gigging as a musician at age 14. She joined the St. James' staff in 2011. She'll continue to work alongside another gifted priest, the Rev. Gethin Wied, whose duties include chaplain at the day school.
That wasn't the only news on Sunday. This was a day in church, after all, where our God in Christ conducts simultaneous projects. Despite my best efforts to warn them that devoting themselves to a life of self-sacrificial love in the name of Jesus Christ was a reckless step, eight came forward to be confirmed by the Holy Spirit. Under the directorship of Sarah Gonzalez, the music and St. James' choir were magnificent. Mary Chalon, a member of the Commission on Ministry, had the children's playroom well in hand. Dr. Lucy Jones, the famed seismologist and a member of the Bishop's Commission on Climate Change, announced plans for a pilot project at St. James' to help all our missions and parishes prepare for climate-fueled natural disasters. Assisting graciously as my chaplain was attorney Bill Bilderback, a vestry member who serves in the state attorney general's office.
Among our confirmation candidates were Sophia and Mia, daughter and second cousin of the Rev. Suzanne Wright-Nava, a deacon, also formed here for ordained ministry, now preparing to take up her new ministry at St. Edmund's Episcopal Church in San Marino as she awaits ordination to the priesthood in January.
Suzanne is director of the St. James' parish youth center, where 30 students in grades six through eight come after school each day for enrichment activities, academic support, and just plain fun. It's a giant space downstairs, invitingly decorated with couches and ping pong and pool tables. After church, one of its denizens, Mac Shropshire, with his mom, Michele, showed me his dazzling murals, one depicting the sun casting inviting beams down the stairs to the center, the second showing giant musical notations pulsing over the piano in the corner.
Among other things, the youth center is a sanctuary for its clients, whose lives are in state of perpetual transition. Everyone else's, too, though we sometimes try to forget. After lunch in the parish hall, I got to spend a lively hour with senior warden Deno Kidde, junior warden Brian Wallace, and the vestry, talking about the rector search and acknowledging the anxiety that results from changes in parish leadership and life in general. If we're in faith, we may reckon the worry as curiosity about what our loving God has in store for us. For this work of preparation and holy anticipation, with Michelle and these thoughtful lay leaders, inspired and comforted by the Holy Spirit, St. James' is in a good place indeed.
Read more about this active, welcoming church here.