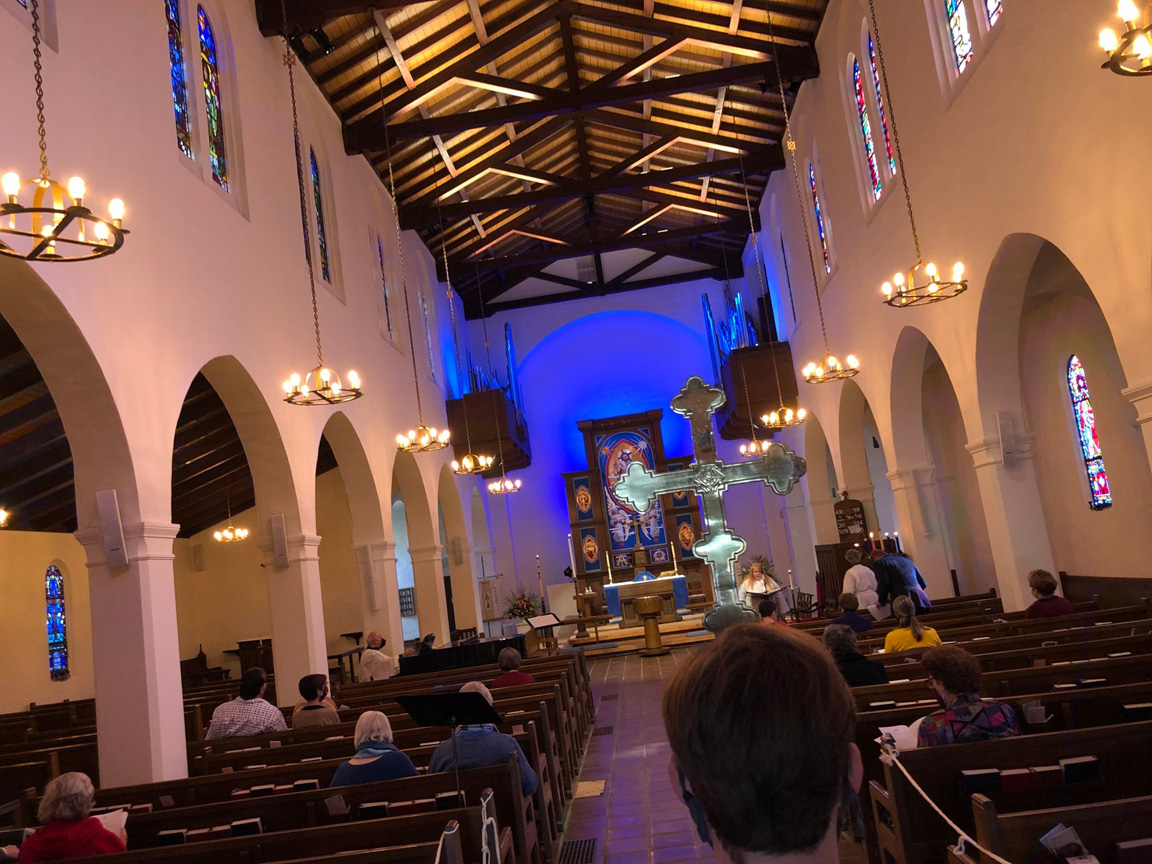 During these pandemic months, the Rev. Neil Tadken, rector for eight and a half years, and his diligent fellow leaders at St. Luke the Physician, Episcopal Church, Monrovia have done a wonderful job keeping soul and body of Christ together.
The nave has been beautifully restored, including a rehab of the pipe organ that is nearly complete. St. Luke's is now equipped for a four-camera life-stream shoot, third-party uses of its beautiful public rooms, and the tenancy of a new independent school. Throughout the pandemic, it's continued longstanding ministries to the food and housing insecure while continuing to discern how best to serve a dynamic San Gabriel Valley city growing in diversity.
I was along this morning to preach and celebrate, not to mention enjoy the exquisite liturgy and the ministry of the St. Luke's choir under the leadership of Kent Bennett Jones, organist and choir director since 2004. (You have to love a Rite II Holy Eucharist service that uses Healey Willan's exquisite "Sanctus" for Rite I. I know you know what I'm talking about!) Tenor selection leader Alex Miller, who grew up at St. Luke's, stood up to reaffirm his baptism vows. We also received Frank Slesinski, the rector's spouse, into The Episcopal Church. Frank's a noted interior designer whose deft hand is on display the restored public rooms. A joy to see longtime friends Marjie and Gary Toops and get an update on the Christmas program of the St John Chrysostom Church-based Festival Singers.
Liturgical coordinator Kathy Eisel served graciously as my chaplain. At a reception afterward, I learned about the devoted ministry this autumn of our 16-year-old crucifer, Brendan Jerry, to unaccompanied minor children at Pomona's Fairplex. With wardens Sonja Shea and Lexi Bond, we chatted about the impending Nativity and the gathering COVID news.
Whatever health officials decide this week, we'll be prepared. Our faith, with lashings of Christmas cookies and See's candy, begets strength on strength. By our faith and spiritual practice, our natural anxiety begets good discernment about doing what's right in peace and joy. Looking back on these unsettled times, may we be able to say, with Mary, that the mighty one has done great things for us, and holy is God's name.