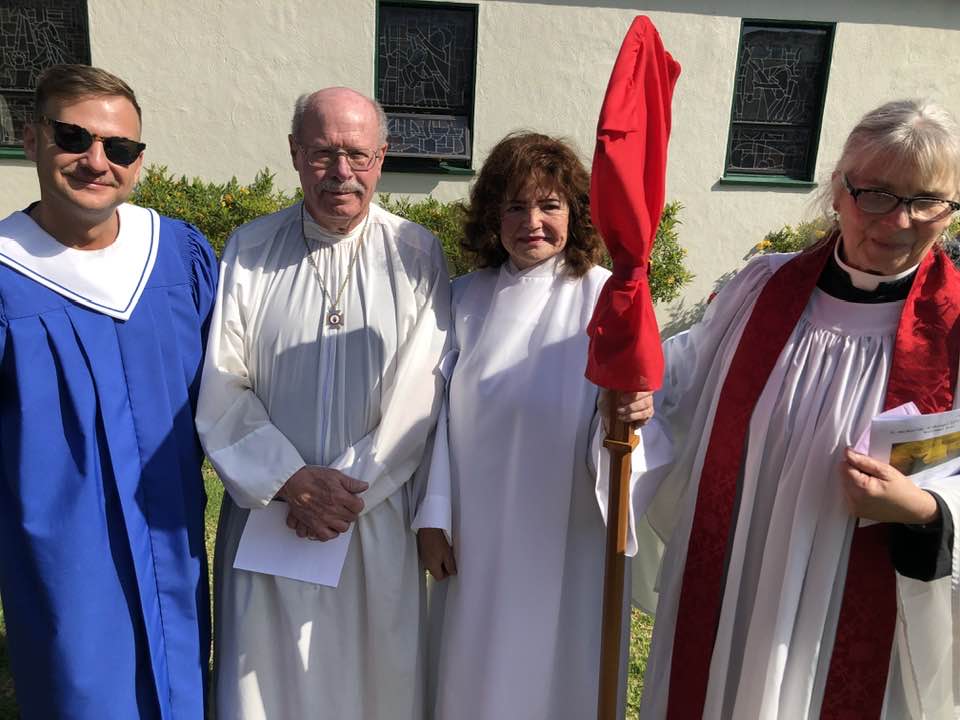 Small and mighty, St. Michael the Archangel Episcopal Church in El Segundo faithfully did Palm and Passion Sunday's contrary work yesterday, using their same voices to sing "All Glory Laud And Honor" (beautifully supported by music director Adam Behlen, one-person choir and orchestra) and cry "Crucify him!" My inward question each year is if I could possibly have been as fickle and weak as the people of Jerusalem. It's not all on them. Corrupt leaders turned them against Jesus, against the good. We have experienced that in our times as well.
I was along to preach and celebrate Holy Eucharist, ably prepared by the interim priest, the Rev. Andrea Maier, and assisted by Dan Ince, my chaplain for the day, a lay preacher who retired a year ago after running one of the world's biggest warehouses. Oregon-born, a former broadcast journalist and entertainment executive, Andrea finally couldn't resist the whisper in her DNA that came from having had ordained people on both sides of her family. Before retirement, she served ably in churches in New York and the Episcopal Diocese of Los Angeles.
She's taken quickly to St. Michael's. Since the retirement last year of its beloved rector the Rev. Dr. Dina McMullin Ferguson, the parish has also welcomed veteran priests such as the Rev. Canons Robert Cornner and Hartshorn Murphy. As St. Michael's begins searching for their new rector, senior warden Melissa Albers, junior warden Jeanie Powell, and the vestry have everything well in hand.
In a couple of weeks, as part of the search process, they'll spend a day anthologizing the parish's history. A member, she says, since the thirties, long before the church was built in the fifties, Shirley Chernukhin will be invaluable to that work. At the reception after church, she told me that she and her late spouse, William, considered themselves members both of St. Michael's and nearby St. Andrew's Russian Greek Catholic Church, pastored by Fr. Alexei Smith, longtime ecumenical and interfaith officer for the Roman Catholic archdiocese. I dropped by to see Fr. Alexi on the way home.
Other members will tell history day stories about the church's faithful ministry to the food and housing insecure as well as its thriving preschool, launched nearly a century ago as a mission by a group of women from St. Cross Episcopal Church in Hermosa Beach.
Another couple told me that they discovered St. Michael's in 2001 and loved it, only to drift away to an evangelical church because their teenaged children wanted a larger youth group. I used to hear that story a lot in big box church-happy Orange County. High school kids like the protection of high numbers. But they don't always come with humane, inclusive teaching. So it was back to St. Michael's for this family. I urged them to tell their story at history day, too. Sometimes small and mighty, and loving and just, are exactly what our risen Lord needs our churches to be.