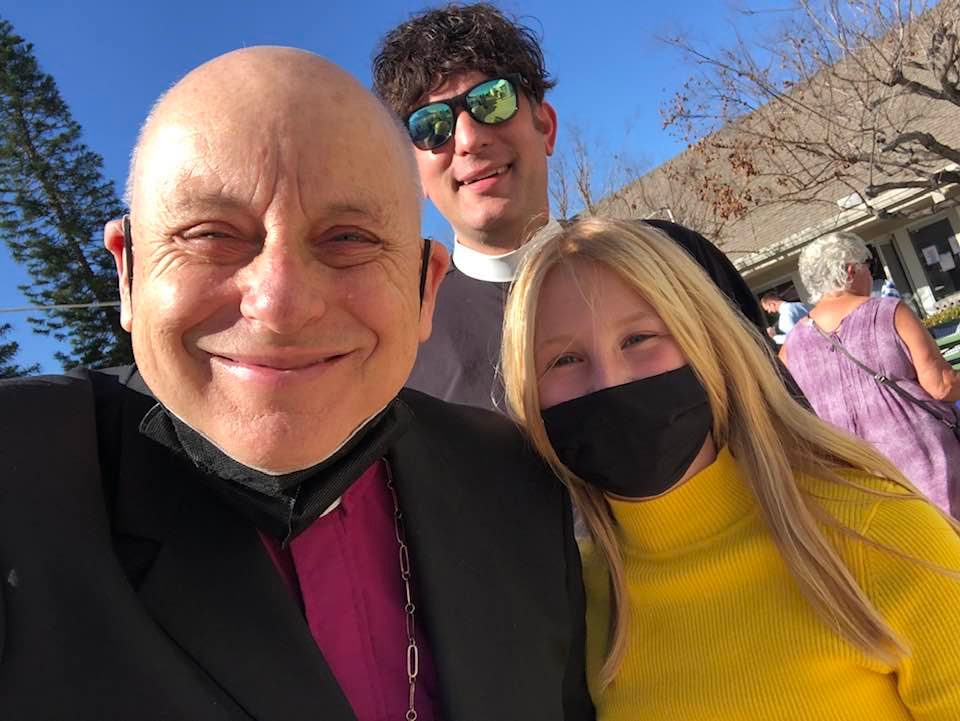 The Rev. Nathan Biornstad experienced a variety of evangelical and charismatic Christian expressions while growing up and going to college in Portland, where he studied management and marketing. His curiosity about the canon and traditions of the faith, and not any particular interest in ordination, led him to Fuller Seminary in Pasadena. The Holy Spirit nudged him the last couple of miles to The Episcopal Church when a friend invited him to a Taize service at The Church of Our Saviour in San Gabriel.
And the Spirit's work continues. I was preacher and celebrant this morning as we instituted Nathan as fifth rector of St. Wilfrid's Episcopal Church in Huntington Beach. This loving, service-driven congregation has been nearly four years without a rector and two years in the COVID wilderness. The pandemic's still with us. Healing and wholeness in a parish that's had its ups and downs are a continuing project. But today's service and festive celebration had the unmistakable feeling of the promised land achieved.
Wardens AJ Wilson and Connie Hornyak, indeed all the members of the vestry and search committee, were beaming. Nathan's dean, the Very Rev. Peter Browning, led a contingent of deacons and priests from all over the diocese. Delegations came from parishes that were part of Nathan's formation — Holy Trinity Episcopal Church Covina; St. Luke the Physician Episcopal Church, Monrovia; St. Cross Episcopal Church, Hermosa Beach; and Church of the Transfiguration, Arcadia — everyone saying how happy they were for him and his spouse, designer and nurse Erolden Woo.
I had a chance to gather with the Altar Guild and bless the stole they were giving him; get to know Nathan's delightful mother, Mary; mingle at a wonderful reception after the service; sit listening as the Rev. William E. Wells rehearsed the St. Wilfrid's Choir; compare notes with associate rector the Rev. Steve Swartzell and verger Don Sinclair and his spouse, my seminary bud the Rev. Nancy Sinclair; thrill at the peerless thurification of Tim Cherpes and cruciferication of his proud mother, Carol; and give thanks for the gracious attentiveness of my chaplain, Larry Garcia, who came to St. Wilfrid's many years ago when he and his son needed some support, got it, and never left. All our churches are mosaics of small miracles. St. Wilfrid's glittered with them today.