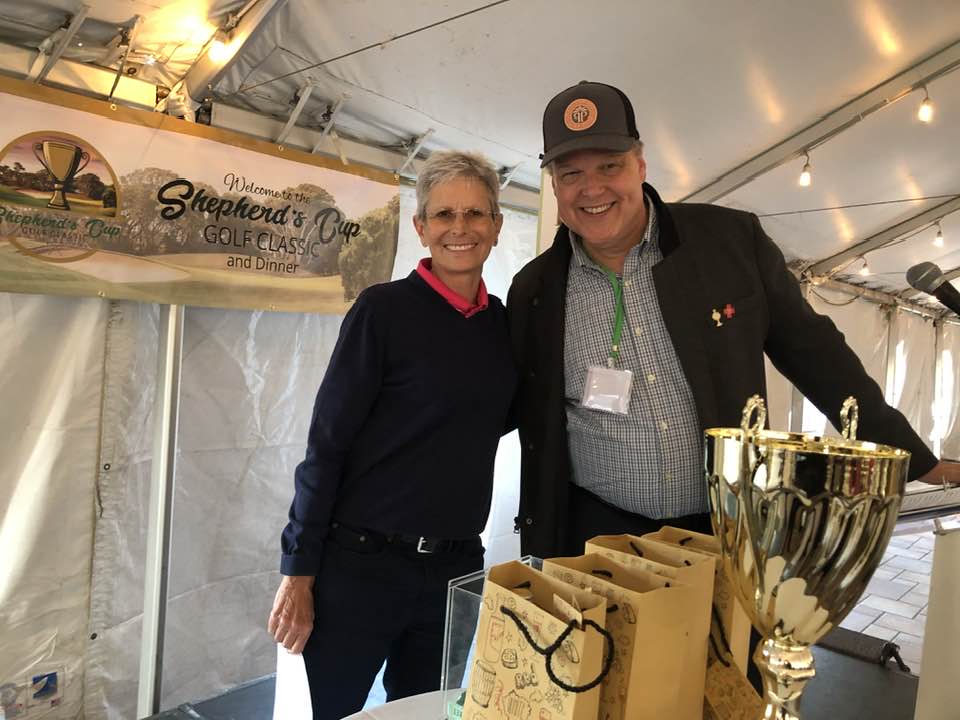 Many years ago, when I was vicar of St John Chrysostom Church in Rancho Santa Margarita, golf ace the Rev. Dawn Vukich (now the devoted vicar of Faith Episcopal Church in Laguna Niguel) worshiped with us with while discerning about the next season of her vocation. When Orange County parishes and missions joined together for a fundraising golf tournament to benefit campus ministry at UC Irvine, St. John's sent two foursomes. Dawn was a leading reason the coveted Canterbury Cup came to St. John's. Worship the Lord in the beauty of 18 hole-iness!
To benefit the Episcopal Diocese of Los Angeles capital campaign, Pastor Dawn and a leadership team envisioned the first annual Shepherd's Cup Golf Classic today at the Industry Hills Golf Club at the Pacific Palms Resort in the City of Industry. Over 120 golfers from around the diocese participated. St. Margaret's Episcopal School was the title sponsor, with additional support from St. James' Episcopal School in Los Angeles (thank you, the Rev. Canon Aidan Koh), St. James Episcopal Church Newport Beach, Ontario International Airport, and Episcopal Communities & Services, our affordable-housing partner.
The Rev. Barrett Van Buren of Blessed Sacrament in Placentia was a superb live auctioneer. A holy host of diocesan colleagues, organized by secretary of Diocesan Council Samantha Wylie, handled hospitality and myriad details. I was along to offer remarks over dinner and preside during the opportunity drawing. My former St. John's peeps went home with the Shepherd's Cup Trophy as well as the award for most honest scoring, which means what you think it means.