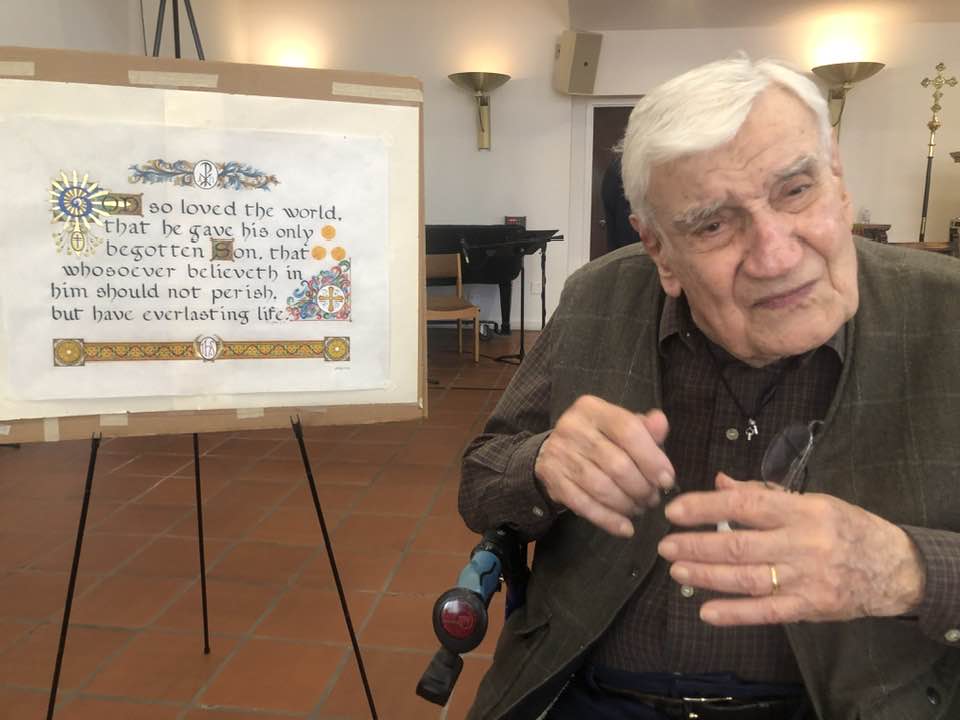 Vincent Mazzucchelli and John Thornbury met in Los Angeles in 1963, when they were undergraduates. Vince had served in counterintelligence during World War II and, in the Vietnam era, after meeting John, was a cartographer for a division of the Rand Corporation, the national security think tank.
He held a security clearance and, though he recalls finessing questions about his personal life, tells me that he had promised himself he wouldn't lie if asked directly about his sexual orientation. One give thanks for him and untold thousands of patriots who served a country that consigned them to the closet, pouring themselves out to give us more time to perfect the union.
John became a librarian at UCLA, Vincent a professor at several universities and as well as president of the California Map Society. Now 96, Vincent's hand is as steady as ever. His magnificent calligraphy graces St. Thomas the Apostle Hollywood, where he and John have been members for many years, and St. Paul's Commons, Echo Park.
Their care of one another sickness and in health, especially during the difficult COVID years, is an exemplar of covenantal love. During our weekly lunchtime Episcopal Diocese of Los Angeles Holy Eucharist service on Thursday, the couple presented their latest gift, Vincent's magnificent John 3:16 (KJV), the New Testament's most famous verse, framed all too often in terms of believe or else. But God so loved the whole world, it says, including all those made in God's image such as this couple of 60 years who, before the world could even see, believed and trusted in what God had prepared for them.