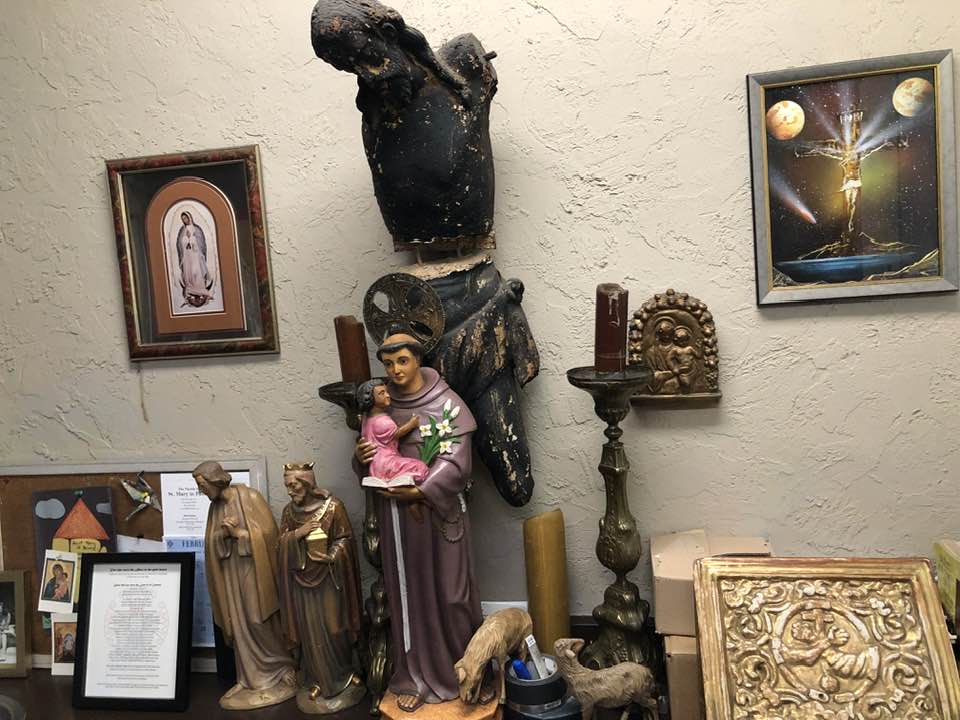 Three years into its second century, tucked in a cozy neighborhood called Palms, near Culver City, St Mary in Palms Episcopal Church offers the gifts of Anglo-Catholic worship and warm fellowship to a small but hearty congregation. I was along this morning to preach and celebrate. We'd all been together in late April for a celebration of new ministry for St. Mary's' energetic rector, the Rev. Paul Anthony Daniels. Pace Hannah and Elijah in the Hebrew Testament, I felt I was receiving a double portion of St. Mary's blessing.
Fr. Paul is working on his doctorate at Fordham University. Co-senior warden Debora Shuger is a literary historian and professor at UCLA. Kevin Liu, her counterpart, is an assistant DA for LA county. Sonia Lee, the organist, has been hailed by critics for performances on four continents and serves as editor of the "Early Keyboard Journal" and the Historical Keyboard Society of North America's newsletter.
This gives you an idea of the caliber of the small talk at coffee hour after church, where the food, coffee, and chilled coconut milk were superb as usual. Debora, for instance, is finishing up a paper on 16th century views of Holy Eucharist. Joining in today were Ted Dodd, 20th Century Fox's former executive VP for creative affairs, and his spouse, USC religion and archaeology professor Lynn Swartz Dodd, who live near St. Mary's and look in when they're not at All Saints' Beverly Hills.
Gabriel, 11, is a brilliant storyteller — and his father, Howard, a scriptwriter and teacher, ought to know. Another member told me St. Mary's became her church many years when her late mother, Roman Catholic at the time, realized the rector had once been her family's paperboy in Iowa. That's the kind of story that helps one believe in God. Rector, wardens, and vestry are mulling a variety of ways to help their contemporary neighbors experience the same magic. Look for the pretty church with the Cape Cod siding and red door. Read more here.