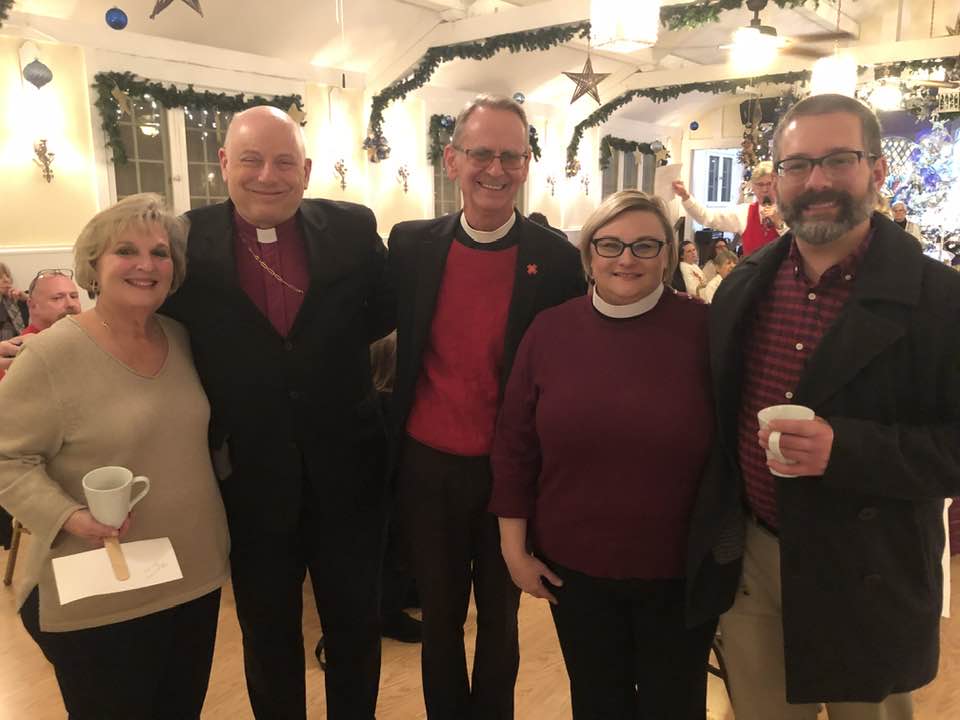 In Dickens' A Christmas Carol, everyone in the neighborhood comes to young Scrooge's boss Mr. Fezziwig's Christmas Eve party. So too at the 17th annual Christmas Tree Festival and Wassail Party, hosted tonight by St. Stephen's Episcopal Church Beaumont, Calif. The Very Rev. Bill Dunn, the vicar, told me that two-thirds of the 110 guests weren't church members. That's what I call neighborhood outreach — three kinds of homemade soup, delicious dips and desserts, and a parish hall brimming with fellowship.
Event co-chair Nancy Houston Guthrie is my friend since 1995, present at the spark of my formation. Guests buy raffle tickets and vie to win dozens of breathtakingly decorated Christmas trees, each a work of art. Bidding was lively at silent and live auctions as well. Last year, the festival raised over $20,000 for three local nonprofits, Carol's Kitchen, H.E.L.P., Inc., and Table of Plenty, which together serves tens of thousands of meals each year in the Beaumont-Banning area. Note that well.
This is a mission church, and every dollar raised at its annual fundraiser goes out the door to its neighbors.
Bill and Nancy invited me to say a few words and bid on baskets. I told one woman who kept outbidding me that I was pretty sure her that car was on fire and that she should go check. She didn't buy it. I got caught up with St. Stephen's members Johanna and Karl Benink. At 85, Karl is recovering nicely from a fractioned spine six months ago. An engineer and scientist, he was in a Japanese prison camp in Indonesia from 1942-45. I suggested he write his memoirs.
Fr. Bill (also the dean of our out-east missions and parishes) and the Revs. Stacey Forte-Dupre and Cecelia Goodman Schroeder are writing a new book on collaborative ministry, linking St. Stephen's with Trinity Church in Redlands (where Bill is priest in charge, his third title in this post) and St. Alban's in Yucaipa. I told a guest sitting close to Stacey, a deacon, that she'd be ordained a priest by Presiding Bishop Michael B. Curry on Jan. 14 at St. John's Cathedral. She seemed politely interested. When I asked if she remembered the dynamic preacher at Harry and Meghan's wedding, her eyes brightened. She sure did, and that was, of course, the PB. That wedding was powerful evangelism for The Episcopal Church — as is this neighbor-first annual festival in Beaumont.