The Bishop's Guild, which has aided the bishops of Los Angeles for a century, and has since 1935 offered financial and spiritual support to seminarians of the diocese, held its annual garden party in 102-degree weather on Oct. 4 at the Pasadena home of Bishop Jon and Mary Bruno.
About 80 guests had opportunities to bid on artwork created by children attending Episcopal schools in the diocese. Donna Keller, Bishop's Guild president, presented Bruno with a $6,000 check for seminarian scholarships. Some 15 seminarians attended the event to thank the guild for its support.
A legacy of service
Joseph Horsfall Johnson, first bishop of Los Angeles, founded the Bishop's Guild in 1914. Its early membership was made up of women who served as an auxiliary to various diocesan institutions, beginning by assisting children at the Neighborhood Settlement (now Neighborhood Youth Association) with outings, clothing and Christmas gifts. In 1935 the guild began to raise funds to benefit seminarians who intended to be ordained.
Bertrand Stevens, second bishop of Los Angeles, named the fund after Alec B. Francis (1867 – 1934), a British silent-movie actor and lay reader at St. Thomas' Church, Hollywood. (It was renamed the Bishop's Scholarship Fund in 1958.) The guild has supported seminarians financially through scholarships and spiritually through personal relationships ever since.
Beginning in about 1930, the guild held monthly or bi-monthly luncheon meetings. At one such gathering, Stevens gave a talk on the history of the flute. He performed several pieces, accompanied by Bishop Suffragan Robert Gooden on the piano. The meetings continued through the 1980s.
The Bishop's Guild began its tradition of a garden party fundraiser almost immediately. Such an event was held regularly for most of the group's history, usually on a Thursday afternoon. In 1966, the guild altered the pattern with a "Dollars for Scholars" night at Dodger Stadium, on which 1,177 Episcopalians joined the crowd and Robert C. Rusack, later fourth bishop of Los Angeles, threw out the first pitch. But most of the guild's fundraising took place at the garden parties, many held at a series of elegant historic homes, such as the Wardman House, home of the president of  Whittier College. Others were at public venues such as the Kensington (The Episcopal Home) in Alhambra, the Japanese garden at UCLA, and the Nixon Library in Yorba Linda.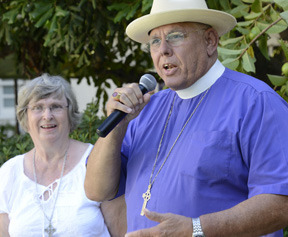 The guild also raised money with its Mission Crafts Shop (closed in 1986), and by collecting donated postage stamps and gold and silver items.
Like all church institutions, the guild has found it necessary to change with the times. The group is now more loosely organized, and meets only at the annual garden party, which is held each year on a Saturday in October. Bishop J. Jon Bruno and Mary Bruno have hosted the party at their Pasadena home for most of his tenure.
But the guild's mission has not changed, and seminarians continue to benefit from its generous support.