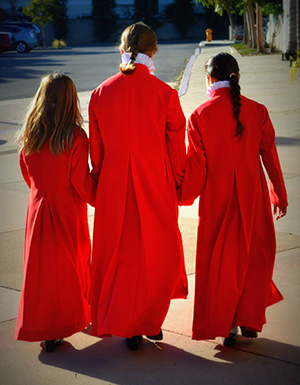 CHILDREN WHO ARE INTERESTED IN MUSIC are warmly welcome to attend an upcoming Chorister Experience Day on Saturday, Aug. 24, 1 – 3:30 p.m. at the Cathedral of St. John in Los Angeles.
Participants will learn about the Cathedral Choral Academy, join the choir in a rehearsal, play games, take a tour, and sing in the cathedral. All participants will receive a certificate and goodie bag. Suggested ages are 7 to 13. No formal training is necessary; just an interest in singing and enthusiasm for music.
Contact Stephen Salts at ssalts@stjohnsla.org to receive a registration form or to learn more about this event or the Cathedral Choral Academy. The cathedral is located at 514 W. Adams Blvd., Los Angeles 90007. A Facebook event page is here.
This article was edited on Aug. 22 to reflect a change in the time of the event.