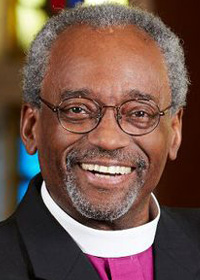 Presiding Bishop Michael Curry is among the clergy slated to preach during the church-wide Union of Black Episcopalians' 51st annual Business Meeting and Conference July 22- 26 in Los Angeles at the Sheraton Grande Hotel. Conference theme is "Preparing the way for such a time as this: many people, one Lord!"
Curry will preach at the Youth & Young Adult Service at 7 p.m. on Wednesday, July 24 at All Saints Church, Pasadena.Bishop Jennifer Baskerville-Burrows will celebrate the Eucharist, with Bishop John Harvey Taylor and Bishop Diane Jardine Bruce as con-celebrants. Priority seating will be given to conference registrants and youth, but there will be plenty of room for all who would like to attend. A reception will follow the service.
The service also will be live-streamed here.
Other scheduled speakers include Archbishop Julio Murray of the Anglican Province of Central America; Bishop Phoebe Roaf of the Diocese of West Tennessee; the Rev. Sandye A. Wilson, COO of St. Augustine's University and longtime leader in the Episcopal Church; and the Rev. Lester Mackenzie, rector of St. Mary's Church, Laguna Hills.
The conference will take place at the Sheraton Grand Hotel in Los Angeles; other worship services will be held at St. Philip's Church, Los Angeles, and St. John's Cathedral For information, including the conference schedule, and to register, click here.