Seeds of Hope, the food justice ministry of the Diocese of Los Angeles, will administer "Champions of Change ­— Healthy Communities Initiative, a program to reduce obesity in low-income residents, funded by an $880,000 from the Los Angeles County Department of Public Health, with funding from the California Department of Public Health and the United States Department of Agriculture.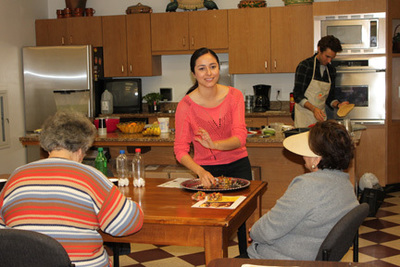 The initiative aims to reduce the prevalence of obesity among low-income Supplemental Nutrition Assistance Program Education-eligible populations by providing nutrition education, physical activity promotion, and working to create healthier environments for low-income individuals and families where they live, learn, work, play, pray, and shop.
Key efforts under the initiative include teaching fundamental skills such as cooking, reading food labels, shopping on a budget, growing fruits and vegetables, and introducing low-cost and fun ways to be physically active. In addition, champions in communities throughout the county will be identified to help improve access to healthier foods and increase opportunities to be physically active in a variety of settings, including early childcare centers, schools, faith-based organizations, corner stores, parks, work sites, and cities.
"We are working toward making notable changes at each of our church and community partner sites to help make healthy foods and a nutritious lifestyle more accessible," said Tim Alderson, executive director of Seeds of Hope, "as well as sharing ways to integrate physical activity into the day to improve the overall health for families in the Los Angeles communities of Lincoln Heights, Highland Park, Echo Park, Hollywood, Koreatown, and Pico Union."
Seeds of Hope was created by the diocese as a response to the health crises in our communities related to poverty and food insecurity. The program grows and distributes food in over 100 communities of need across six Southern California counties while providing garden-based nutrition and fitness education under contract with the Los Angeles County Department of Public Health.
For more information about Seeds of Hope, contact Alderson at 213.482.2040 or by email at talderson@ladiocese.org.