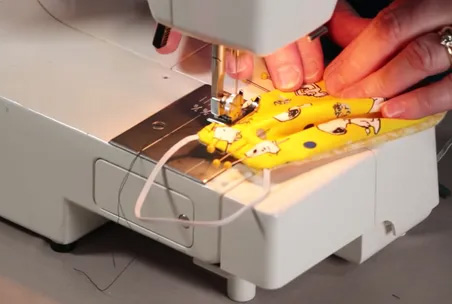 As the coronavirus crisis continues, hospitals and medical providers are rapidly running out of face masks for their own use and that of their patients, and sewing hobbyists are breaking out their machines and fabric stashes to help.
The Rev. Canon Jaime Edwards-Acton, rector of St. Stephen's Church, Hollywood, and pastor of St. Be's (St. Barnabas), Eagle Rock, writes, "A friend and parishioner of mine who is a nurse practitioner has been deployed on the front lines in the San Francisco area to deal with COVID19. She said she and her colleagues have no protective masks for their patients. She asked me if the saints of my church could sew some. After thanking her for everything she does, I said: Yes, we can!" And I bet a group of my friends and colleagues, real and virtual, can do it too."
Edwards-Acton is compiling a list of places that can use such masks and how to send them. The nurse-practitioner has told him that she sees an urgent need for masks not only for health care professionals, but for the elderly in general, nursing homes and smaller hospital systems. She adds that bigger hospital systems may need them too.
An article from the Courier-Press of Evanstown, Indiana, contains information and links to instructions, patterns and a video: click here.
To help, click here to notify Edwards-Acton, or visit St. Stephen's face-mask web page here.
In addition, JoAnn's Fabrics is offering free face mask-making supplies: visit its website here for information and a link to a YouTube tutorial.