By EN staff
June 20, 2018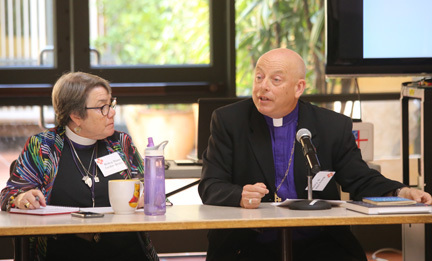 Bishop Diane Jardine Bruce and Bishop John H. Taylor lead a discussion on ways to solve the housing crisis in Los Angeles with some 40 church and community leaders. Photo / Janet Kawamoto
To address the "moral crisis of unaffordable housing" across Southern California, Bishop John H. Taylor on June 19 convened a 55-participant diocesan Task Force for Housing Justice, bringing together a diverse representation of developers, bankers, architects, government officals, non-profit representatives, and faith leaders united in achieving solutions for people without housing.
Believed to be the first denomination-wide effort on this topic of a major faith group in the Southland, the new task force began its work of consultation and advocacy with opening comments led by the bishop. A total of 40 members – some representing agencies including the United Way and Habitat for Humanity along with leaders from Episcopal Communities and Services and other developers — attended the opening meeting held at the Cathedral Center, which also will host the next scheduled meeting on Sept. 18, 10 a.m. to 12 noon with working groups dedicated to social enterprise, political advocacy, and "incarnational ministry."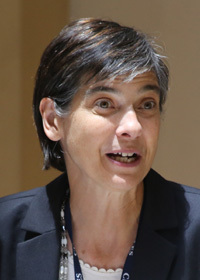 Lisa PayneLunch-time keynote speaker was Lisa Payne (pictured at left), director of public engagement in the office of L.A. Mayor Eric Garcetti and a former director of the Southern California Association of Non-Profit Housing. "I applaud what you are doing here to assemble expertise to turn this work into reality," Payne said.
Under the theme "Come Home," Taylor emphasized four focus areas, using a newly produced videotape (available on the diocesan Facebook page) to highlight the areas of "housing first," social enterprise, political strategy, and ongoing direct services. Excerpts of the bishop's comments follow here. Taylor said:
— "Southern California is experiencing a vast social crisis brought on by the high cost of housing, which affects every socio-economic cohort from the homeless to retirees who have to move away from their grandchildren. Remembering that we follow a savior who had nowhere to lay his head, we've adopted the United Way's "housing first" mantra as a gospel proposition. We don't diagnose hungry people before giving them something to eat. According to the same principle, people do better battling addiction, mental illness, and job insecurity if they have a place to live.
— "Using social enterprise tools and partnering with developers and non-profits, we can glorify God and sustain our parishes and missions by providing housing solutions, from winter shelters to affordable senior housing, on our campuses.
— "It's time to leverage the church's political clout individually and corporately with city councils, boards of supervisors, and state legislators, calling on them to use our tax dollars to serve all our neighbors in need — including by demanding that government scale back density and height limits that make it hard to build affordable housing and require developers to do more affordable and permanent supportive housing projects.
— "We can't delegate compassion to government or anyone else. All politics is local; so is homelessness; and so is the work of our Lord Jesus Christ. Charity might not be enough anymore, but we can't do without it. We'll continue to lift up all those around our diocese and region who serve Christ by incarnational service to their neighbors in need."
"One can't get up in the morning without realizing homelessness is an issue," said Canon Karen Uhler, junior warden of St. John's Cathedral and an experienced trustee of Carter House built to assist homeless mentally ill residents. "The issue also touches students and working families who can no longer afford the increasing cost of rent."
Other financial aspects were underscored by Becks Heyhoe of Orange County United Way who noted that government spends on average $42,000 on services to one homeless person annually while it costs some $9,000 yearly to provide affordable housing with supportive services.
The bishop encourages others to join this effort, or to share ideas, by contacting the task force's staff liaison, Canon for Common Life Bob Williams, bobwilliams@ladiocese.org.