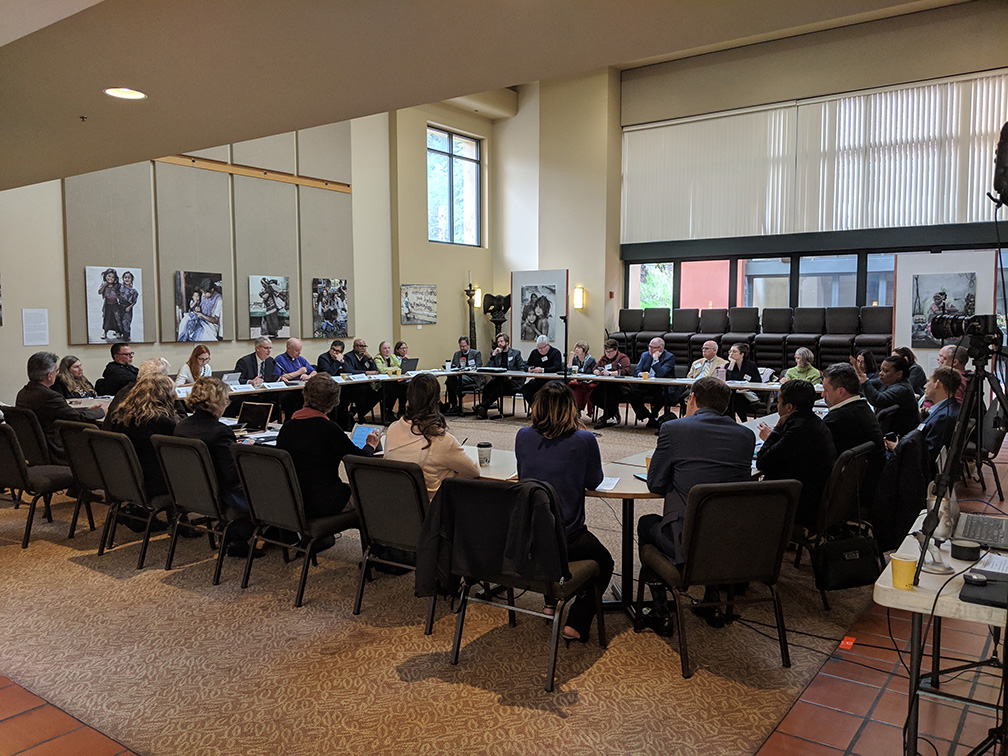 Identifying unique contributions the people and congregations of the six-county Episcopal Diocese of Los Angeles can make to ease the Southland's current crisis of housing affordability and availability was a central theme for the diocesan Housing Justice Task Force's Jan. 15 meeting convened by Bishop John H. Taylor.
Finding those efforts "unique to our particular collectivity and gifting" is the work ahead of the task force and wider diocesan community, Taylor said in opening remarks to 40 attendees of the task force's 70 members.
This exploration process is now supported, Taylor said, by the task force's working groups on social enterprise, political advocacy, and incarnational ministry in parish life, each of which will convene prior to the task force's next plenary meeting, set for Tuesday, April 9, 10 a.m. to 12 noon, at the Cathedral Center in Echo Park. A fourth working group will convene on logistical aspects of building projects.
Among such proposed new construction is a development slated for St. Michael's Episcopal Ministry Center in Riverside, a project the task force previewed in a presentation by architects Frank Escher and Ravi GuneWardena, together with plenary keynoters Larry Haynes of Santa Ana-based Mercy House and the Rev. Roberta Morris, an L.A.-based housing advocate. Additional consultation continues regarding potential building projects envisioned for Episcopal Church sites in Placentia, Buena Park, Goleta, and various districts of Los Angeles, among others.
Livestreamed via the diocesan Facebook page, full video of the Jan. 15 meeting – the third plenary in an ongoing series – may be viewed on demand, widening awareness and engagement around the diocese, Taylor said.
Justice-related quotations of Martin Luther King Jr. (who would have turned 90 on Jan. 15) and T. S. Eliot, read during the morning's invocation by the Rev. Jane Gould, rector of St. Luke's, Long Beach, added context to the bishop's remarks about realities of socioeconomic polarization.
"We have a responsibility, first of all, to the folks among us who are at greatest risk, so we talk a lot about homelessness," Taylor said, "but the crisis we're in regarding the cost of housing is one that is going to engulf every socioeconomic cohort in our families and our neighborhoods and our churches."
Citing a recent study on people moving to California, Taylor pointed to the well educated and the affluent: "To what extent is our region going to become an enclave for the wealthy? The socioeconomic polarizations are growing, and the cost of housing is part of that."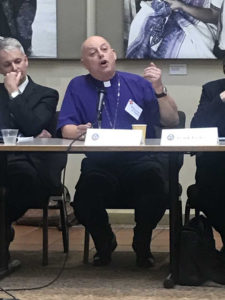 Taylor suggested using "the language of the Gospel to talk about how housing needs to be more affordable and more available. We need to talk about different ways of living together; [do] the suburbs make sense when getting back and forth between jobs in the center city and houses in Tustin is not only hard on the pocketbook but hard on the creation we share?"
Among other examples, the bishop pointed to housing density, a topic raised during Diocesan Convention's recent Housing Justice Panel. "If some of us live in single family homes on relatively small lots, and we find out that our neighbor wants to tear her house down and build six units of housing that would be more affordable, that nurses and firefighters and teachers could afford to live in, how would we feel about that, if all of these interlocking municipalities and county agencies… are hearing those who are already vested in their communities when decisions need to be made about how many units you're going to build on a piece of property?
"So," Taylor continued, "can we advocate collectively for higher density and therefore more affordable housing? Can we advocate collectively for requirements that developers would have to follow in order to provide more housing? And can we advocate, most radically of all, for different ways for people to live together, intergenerationally, so maybe older people who are having trouble getting by on their social security, partner with young people who can't even afford to pay the rent and get started in their careers and their families? Can we figure out new ways to come together in the name of the Gospel?"
Aligning data, strategies
Morning keynoter Larry Haynes, executive director of Mercy House – provider of "housing and comprehensive supportive services for a variety of homeless populations which includes families, adult men and women, mothers and their children, persons living with HIV/AIDS, individuals overcoming substance addictions, and some who are physically and mentally disabled" – emphasized the importance of realistic alignment of data and strategy.
He cited the disparity between public opinion that homelessness "is literally exploding" with current statistics that show the problem is decreasing slightly in all local regions except Orange County, where a rise of 3.4% has been identified. "Data matters, data drives our strategies, data drives our actions."
Haynes, who has served on Mercy House's staff for some 29 years, also raised the semantic and practical differences between the "notion to end homelessness, rather than manage it. When we decide we're going to end something, we need to start measuring different things," he said, emphasizing approaches including "housing first" which prioritizes putting roofs over the heads of the unhoused, offering supportive services continuing from that starting point. "Housing works… for just about everyone," he said, noting that effective strategies have "moved more away from charity toward justice… We can be better, and we must."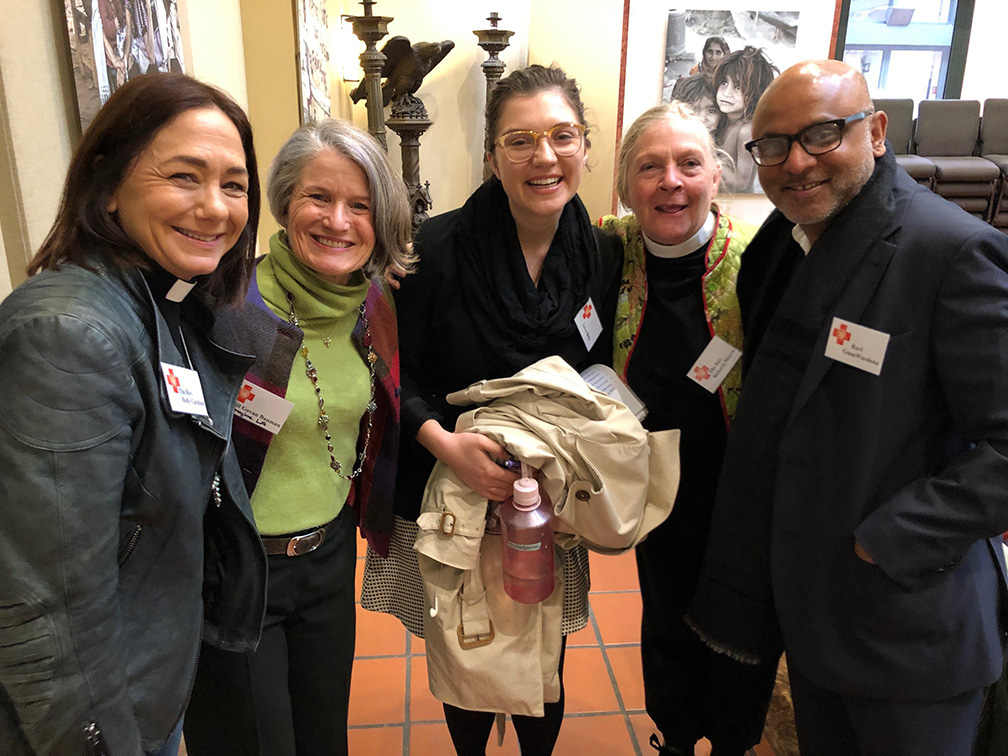 Keynote speaker Roberta Morris, second from right, gathers for a photo with members of the diocese's Housing Task Force, which met Jan. 15 at the Cathedral Center. Photo: John Taylor
In a follow-up brief presentation, the Rev. Roberta Morris, L.A.-based Episcopal priest and housing advocate, noted that "The housing crisis in L.A. seems huge, but in fact it is a series of small problems."
She cited the example of a group of unhoused Angelenos on the corner of Bimini and 3rd Street, on property owned and adjacent to L.A. Eco-village, who needed "some restroom facilities and some platform for their tents and security, so the tenants there are trying to provide these basics for their unhoused neighbors. That's for eight of the 100,000. The neighbors are working on it.
"The scandal is not simply that we have so many unhoused," Morris said, "but that, at the same time, we have a 3.8 percent vacancy rate overall in L.A. County, and in the last few years in downtown L.A., ground zero of the homeless crisis, the vacancy rate rose above 10 percent. We have housing, but a crisis of affordability.
"So what do we do," Morris asked, "specifically as the Episcopal branch of the Jesus Movement? We are land-rich, so can we be a bigger part of the solution of affordability? In part, the problem is the weeds we were warned about at Convention. Housing and zoning issues are complex. Maybe also it's a failure of the imagination. We can address that today. Let's imagine many small solutions."
First among next steps, Morris said, is to help "activate parishes to maximize resources already available. Encourage each parish and/or a family to sponsor at-risk or unhoused  families and individuals, using local resources or renting vacant units in their neighborhoods for transitional housing. The parish can coordinate support services, encouraging community involvement, prevention and early interventions.
Next, she called the diocesan community to take inventory of "unused properties, rectories, community halls, and other church spaces that can be developed into housing units and/or facilities. Refurbish, renovate and build on existing properties with congregational support to address local needs, particularly those of young entrepreneurs and creatives – the backbone of much of L.A.'s economy – and the needs of the unhoused (i.e. providing showers, housing in existing structures, workspaces, etc.) Here, "the weeds" get thick indeed regarding zoning, permits, etc., so develop expertise. Wade into the weeds and develop the expertise needed within local communities."