Amid Downtown Los Angeles' current boom of commercial and residential construction, St. John's Pro-Cathedral is entering a new chapter in its 125-year history.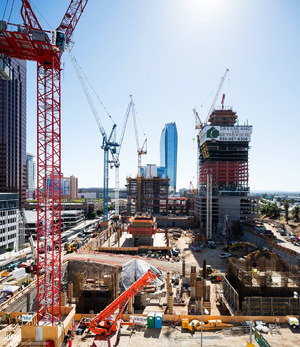 "We are strategically positioned in what is being called Downtown's renaissance," Dean Mark Kowalewski said of the context in which St. John's is both launching new ministries and planning to develop its campus at the southeast corner of Adams Boulevard and Figueroa Street, just north of USC.
Design of a mixed-use project envisioned to include housing and retail space along with much-needed meeting facilities and parking is the concept for which St. John's has retained the New York firm of Denham Wolf, Kowalewski said. Requests for proposals have been solicited from developers, with responses expected in early December, Kowalewski said, noting that construction will be financed jointly by St. John's and the developer eventually selected.
Planning moved to a new phase in June when St. John's completed purchase of a long-sought parcel, in recent years a tire store, which gives the parish ownership of its full city block including the corner gas station. The intersection is notable for the Mediterranean architecture of the Automobile Club headquarters and St. Vincent's Roman Catholic Church as well as that of St. John's.
The renaissance metaphor is an apt backdrop for St. John's and its landmark Romanesque church, consecrated in 1925 when building in the Italian style was widely popular in Los Angeles, a city itself named for the Assisi basilica that shelters the Little Portion chapel of St. Francis. Los Angeles architects Pierpont and Walter Davis of Los Angeles were retained to design St. John's, then situated in a fashionable residential neighborhood.
Inside St. John's, the beamed ceiling is patterned after Florence's centuries-old San Miniato Basilica — so named for the martyred Armenian prince Minas — and located not far from Michelangelo's final resting place. Carved by renowned Italian sculptor Cartiano Scarpitta as a memorial to Mrs. William A. Clark Jr., the façade of St. John's echoes that of the 6th-century San Pietro Church in Toscanella, north of Rome. Scarpitta's commissions also included the present Los Angeles City Hall, built in the same time frame.
Impetus for the church's fine construction came from its longtime rector, the Rev. George Davidson, and prominent members of the parish, which at the time was the diocese's largest congregation approaching 3,000 members.
Worship, including the recently introduced third-Sunday Compline service reaching out to the university community, has long brought the parish in touch with ancient rites expressed in contemporary contexts. "This is reflects our mission of worship rooted in catholic tradition, preaching that is relevant and evangelical, and social ministries that are progressive," said the Very Rev. Canon Daniel Ade, co-dean.
A center for ministry, advocacy and art
Welcoming families and individuals of all ages is central to the mission of St. John's, said Deacon Margaret Hudley McCauley, whose long tenure as a Los Angeles city school teacher informs her ministry. Involving children in the worship and work of St. John's at early ages is among McCauley's goals.
Social-service outreach and justice advocacy are longstanding traditions at St. John's, said diocesan Archdeacon Joanne Leslie, whose service to the congregation includes guiding outreach to the area's homeless, encouraging enrollment in affordable health insurance, and in recent years opposing war in Afghanistan and Iraq. The protest echoed past days when the main bronze doors of St. John's were closed in public opposition to the Vietnam War.
Interfaith and ecumenical work has new dimensions at St. John's, which hosts many programs established by assisting priest Gwynne Guibord. Offered through the Guibord Center, regular educational presentations, concerts and other gatherings achieve the goal of widening local interfaith understanding and collaboration.
Music and other artistic expressions are central, through the Cathedral Arts Guild overseen by Canon Ned Tipton, who came to St. John's after a long tenure as organist-choirmaster at the American Cathedral in Paris. Major performances in the past year have included Hildegard von Bingen's masterpiece, Ordo Virtutum, as well as a Bach Collegium concert presented by the Da Camera Society. A centerpiece of music at St. John's is the parish's historic pipe organ, built in 1924 by Boston-based E. M. Skinner as his third-largest California installation after San Francisco's Grace Cathedral and the Palace of the Legion of Honor. Tipton continues a tradition of excellence also advanced by longtime organist-choirmaster Carol Foster.
The current blend of outreach, service, social engagement, and the arts at the center of metropolitan Los Angeles marks St. John's as fulfilling both the ancient and contemporary functions of a cathedral, said L.A. Bishop Diocesan J. Jon Bruno.
"I commend the people and clergy of St. John's for the excellence of their ministries and their vision for the future," said Bruno, who named St. John's the diocese's procathedral in 2007, and presided at a dedicatory liturgy inaugurating the new ministry on February 2, 2008. "Strategic development of the full city block will help make St. John's a place of abundance well into the future."
In 2007, Bruno called St. John's and the Cathedral Center of St. Paul in Echo Park to serve as "one cathedral ministry in two locations," with St. John's providing its larger space for liturgical purposes, and the Cathedral Center its ongoing work as a hub of both diocesan administration and community services.
Built and consecrated as the diocesan cathedral in 1994, the Echo Park center continues the ministries of the former St. Paul's Cathedral of Figueroa Street, razed in 1980 by vote of Diocesan Convention, which elected not to fund extensive repairs and retrofitting made necessary by the 1971 Sylmar earthquake. This same St. Paul's Cathedral was completed and consecrated in 1924, a year before the present landmark St. John's. A downtown office tower now stands on the former site.
Worshiping at the heart of the Cathedral Center, the congregation of St. Athanasius is currently marking its 150th year as Southern California's oldest continuing Protestant house of worship. Located inside the Echo Park sanctuary is the cathedra, or official seat, of the bishop of Los Angeles. The complex includes a 14-guestroom retreat center, a bookstore, the Episcopal Community Credit Union, an adoption agency, and other services in addition to the offices of the bishops and diocesan staff.
St. John's, meanwhile, has the traditional designation of a procathedral because its landmark parish church was extant prior to being recognized by the bishop for its new role. Interestingly, longtime rector Davidson has often been quoted as saying he hoped St. John's would one day be the diocese's cathedral church.
As procathedral, St. John's has added helpful features, including a new elevated platform and moveable altar table with gilded carving echoing the chancel's iconic triptych. Pews have been replaced with individual chairs that can be configured for various liturgies and banquets, such as the parish's recent Harvest Dinner, held inside the sanctuary. Landscaping has been updated and a plaza area added for outdoor receptions.
Health care for children, justice for all
St. John's has occupied its present site since 1890 when the parish was organized and a picturesque wooden church built facing Adams Boulevard. Orange groves and residences stood nearby in a district then considered some distance from the city center. Some 30 years later, the congregation had outgrown the wooden church, which — to make way for the present larger concrete sanctuary — was moved from the original lot to a new site many blocks south. The building became home to a congregation known as the Parish of Reconciliation, which later made its property available for construction of Carter House, a residence assisting homeless mentally ill.
Another of the parish's longstanding outreach programs, St. John's Well Child and Family Center, now a separate non-profit corporation, was founded on the West Adams campus where it was located for several decades. Now a multi-site organization, the center is based in the Watts area on the site of the former St. Martin's Episcopal Church. The center recently dedicated its newest clinic in honor of the Rev. Canon Warner Traynham, a longtime rector of St. John's (see story here).
Other of St. John's well-known rectors have included the Rev. Lawrence Carter, whose tenure spanned the 1960s and early 1970s, and included the notable transition of St. John's into a multi-ethnic parish reflecting local demographic change. Carter's widely read book Can You Here Me Calling, with a grammatical error intentionally included in the title, traces his experience of these years of solidarity with people in need.
Carter was followed as rector of St. John's in 1973 by the Rev. William Persell, who served until 1982 and later was elected bishop of the Diocese of Chicago. During Persell's tenure St. John's hosted in its parish hall Eucharists celebrated by the fledgling Los Angeles chapter of Integrity, the well known national organization of LGBT Episcopalians and friends. Similar Eucharists were also celebrated in the parish hall of St. Stephen's, Hollywood.
Meanwhile, St. John's was also known as a center of African-American ministry within the Episcopal Church, also taking up in the 1980s and '90s the fight against apartheid in South Africa. As rector, Traynham was well known for excellent preaching that combined scholarship and advocacy. The parish's focused anti-apartheid efforts culminated in a 1990 visit from South Africa's Archbishop Desmond Tutu, who led a rally inside the church, declaring "apartheid is on the way out."
Through the years, both as parish church and procathedral, St. John's has been filled to its 900-person capacity for various liturgical gatherings including numerous ordinations, and notable funeral services, such as that of Bishop Robert C. Rusack in 1986, and 2007 rites for longtime parishioner and donor Richard Seaver, Southland philanthropist and president of the Los Angeles Opera. The Seaver Foundation remains among generous supporters of ministries at St. John's.
Because of its proximity to the USC campus, St. John's has long been a parish home of university students, faculty and staff. The recent construction of housing surrounding St. John's also continues to bring new residents in contact with the landmark church.
As co-dean, Ade writes in a recent parish magazine article that St. John's is located between two of the city's largest development projects. "The first is the Reef, a $1 billion urban village with two 30-story condominium towers, entertainment, shopping and a transportation hub on Main and Washington streets, the site of the former Trade Mart. The second is University Village, a $750-million, 15-acre mixed-use project housing 3,000 students.
"The population in the downtown area has grown by about 30,000 people since 2006," Ade adds. "Today there are approximately 60,000 downtown residents with growth projected to about 80,000 in the next few years."
Looking ahead amid this renaissance, Dean Kowalewski describes the procathedral's "master plan" as "a mission-driven vision in which this place becomes the crossroads of the church and the city, where we will have the ability to open our doors in hospitality to our community, where we can teach and learn and celebrate; where we can be a sign of the City of God in the city of angels."
For more on the ministry and 125th anniversary of St. John's ProCathedral, visit www.stjohnsla.org. For more historical photos, visit www.horizonsandheritage.org.
— Bob Williams is diocesan canon for community relations and historiographer-archivist.