In Beaumont, St. Stephen's Episcopal Church's "Angels Among Us"-themed Christmas Tree Festival will mark the congregation's tenth such community fund-raising event and highlight its yearlong centennial celebration.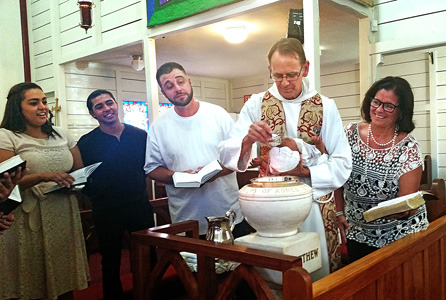 A Dec. 26 service, the feast day of St. Stephen, planned at about 5:30 p.m. will cap the church's 100th birthday celebration with members returning to its roots, according to the Rev. Bill Dunn, vicar.
"The first service of the church was held Dec. 26, 1915 in the Beaumont library, which still stands," Dunn told the Episcopal News.
He will lead a procession from the church's current East Eighth Street location one and a half blocks to the steps of the library. There, in the basement a century of services earlier, a handful of Episcopalians met for Evening Prayer, collected $5.54 as an initial offering and sparked the beginnings of St. Stephen's.
It was 1915; the sleepy surrounding community was mostly agricultural; one other congregation existed in the city, which had incorporated three years earlier, adopting the French name meaning "beautiful mount."
Within a few months, church services moved to a more permanent home in an old store across from the former Beaumont Water Company. "Somebody donated an empty building to them. I love this part of the story," said Sherry Wood, centennial committee chair.
"This is how the people of St. Stephen's are," she said. "They have this building and it had been a general store before it was donated to them. It was in poor shape. When it rained they had to put the books under the altar because the roof leaked everywhere and they couldn't leave prayer or songbooks out. The wall covering was peeling, and I read that the building smelled like old bacon.
"But this group of people cleaned it up to be a worship space. One of the lady parishioners was quite the handy person. They called her 'Shippy'; she took the counters from the grocery store and built an altar and a choir loft. It's been an interesting journey."
The church was formally admitted as a mission congregation of the Episcopal Diocese of Los Angeles in 1916 but members chose to celebrate the 1915 date because, Dunn says, "I've got the book" that records the first actual service.
The present sanctuary was erected in 1922; its first service was held on April 14, giving St. Stephen's the distinction of being the city's longest continuously worshipping community in the same place. That space has undergone a dramatic makeover during this centennial year, Dunn added.
St. Stephen's achieved parish status in 1949 and, with the arrival of the 1960s and the I-10 freeway transportation corridor, the pace of life quickened significantly. Nonetheless Beaumont has always been "a take-care-of-each-other kind of community and St. Stephen's is part and parcel of that," Wood said.
A history of outreach
"St. Stephen's has a history of outreach, always, even from World War II, when they were doing hospital pajamas for wounded soldiers and knitting and sewing," she said. "That's what the women's guild did. They pretty much substituted for the Red Cross out here in the San Gorgonio Pass area."
As times have changed, "everything has moved on and we've come to the point where we are now, there's a lot of rich history about what has gone on in the church," she said.
The congregation worshipped as one until St. Agnes, Banning, was founded as a mission congregation in 1959, according to the Rev. Canon Victoria Hatch who served as vicar for 27 years.
Hatch, the first woman ordained a priest in the diocese, presided over the congregation during turbulent and sometimes challenging societal times until St. Agnes' closed in 2006. From 2000 to 2001 she also served St. Stephen's, focusing on revising church bylaws and the articles of incorporation.
When St. Agnes' closed, many members returned to the older congregation where, Hatch said, "they became the leadership at St. Stephen's in many, many regards and for that I am glad."
Lee Hackney is one of those leaders. After St. Agnes' closed, she and her family began attending St. Stephen's. She promptly became a member of the bishop's committee and now leads St. Mary's Guild, one of the church ministries involved in "Blessings in a Backpack" a program that supplies weekend food to children at a local elementary school and "ditty bags" for HELP or Hope, Empathy, Love and Prayer Inc., a nonprofit social service agency that includes a food pantry, thrift store and other assistance.
The ditty bags include paper, pens, combs, toothpaste and other personal hygiene items, Hackney said. The church also reaches out to those in recovery, hosting groups meetings, and assists military families and other local nonprofits.
Today the congregation has an average Sunday attendance of about 90, has returned to mission status, and "is small but mighty," Dunn said.
Given the challenging economic climate, plans to construct a new sanctuary are on hold, so "it's come down to 'bloom where you're planted,'" Wood said.
That's why there's been a lot of emphasis this year on updating and redecorating the sanctuary, refinishing floors and original pews, painting, refurbishing, reupholstering, "and everyone is thrilled with the results," she said.
Festive events enliven centennial year
Lurline Jennings, head of the church's quilting and liturgical garment guild, came up with an idea to create a quilt incorporating the historical aspects of church activity in the community as part of the centennial celebration.
Like the vibrant congregation, the 40-by-63-inch vivid quilt quickly became an "ad-lib," Jennings said. "We put it together as we went along." It depicts the church, surrounded by nature as well as such symbols as the sacraments, the Trinity and candles. "We wanted to tie in the historical aspects of church activity in the community, the church today as St. Stephen's is and as it deals with parishioners," Jennings said. "It's a multi-level bringing together of what we do in this community."
Dunn said that the congregation's "single most important core value is outreach.
"Our reach in the community exceeds the number of parishioners we have," he said. "If something is happening in the San Gorgonio Pass to help others, there's a pretty good chance St. Stephen's worshippers are in the middle of it."
The year's centennial festivities included an organ recital, a spring fashion show, and a formal dinner celebration that drew former members, clergy, public officials and local dignitaries.
Then there is the upcoming Christmas Tree Festival. Now in its 10th year, the three-day, three-part celebration in 2014 raised $12,000 for local charities. This year's proceeds again will go to support agencies that assist the community.
Participants will be invited to participate in a Dec. 2 kick-off Wassail and silent auction party, purchasing opportunity tickets to vie for one of 10 already-decorated Christmas trees.
"They're decorated by people in the community and parishioners; how they're decorated is left to the discretion of the designer," Wood said.
"There's everything from elaborate handmade ornaments to more of a country look, with birds and animals, everything you can imagine. We have a local florist who always does an eight-foot tree and that's usually a very dramatic tree. Last year it was all red and white peppermint.
"We have everything from table-tops to 8-foot trees," she added.
"We look forward to it all year; many people are repeat attendees. A group from my neighborhood always goes and this year I bought them all tickets. This was in April. But they told me they had already purchased tickets because they wanted to sit together. It's become a 'begin the holiday season' event for the whole community."
On Dec. 4 and 5, the church will host a Christmas tea, a formal function offering additional opportunities to win a tree.
"It's part of the long history of St. Stephen's people working on fundraisers, most of which goes back out to the community," she said.
Dunn acknowledged that the next century will bring such challenges as strengthening connections with the unchurched, especially teenagers, and some of those in Banning who did not transition over from St. Agnes. Expanding the campus to incorporate off-street parking and attracting younger worshippers are other outreach goals, he said.
Wood agreed. "I'm wanting to know what the next chapter's going to be," she said. "It's been fun to be at this place at this time and have that opportunity to go back and see what it was like 100 years ago. There's just no doubt in my mind that this congregation will continue on."