Diane Jardine Bruce and Mary Glasspool were among the bishops suffragan of the Episcopal Church who gathered in Rome in October as guests of Pierre Whalon, bishop of the Convocation of Episcopal Churches in Europe.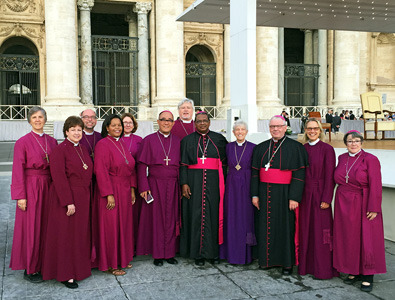 For Bruce and Glasspool, the unquestioned highlight of the trip was a visit to the Vatican and brief, but meaningful meetings with Pope Francis during an Oct. 7 general audience.
In her weekly letter to clergy in the northern part of the diocese, for which she is area bishop, Glasspool described the scene after the pope took his seat in the Piazza San Pietro, where she estimated that some 50,000 people awaited him.
"Following the formal readings and speeches from around the world, we lined up in the bright October sun, and had the incredible opportunity to spend approximately ten seconds each in an otherwise timeless, intimate connection with the pope, shaking hands and exchanging greetings," Glasspool wrote.
Bruce, writing in her blog, "Wandering and Wondering," said of the encounter: "When he got to me, I greeted him in Spanish, gave him a Laundry Love pin and told him about this ministry. I asked him to pray for us and he asked me to pray for him. I had to do it very quickly!"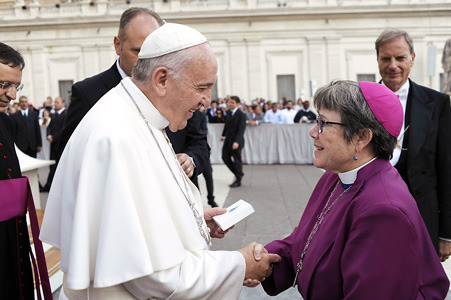 Laundry Love is a ministry in which congregations invite poor and homeless people to a local laundromat to wash their clothes and enjoy fellowship with parishioners. Bruce and her husband, Steve Bruce, have been deeply involved in Laundry Love, now operating at some five sites in the diocese.
"I cannot begin to express my feelings about this moment [meeting Pope Francis]" wrote Bruce. "Growing up as a Roman Catholic, it was always a dream to one day meet the pope.
"We were front row — just being that close and hearing him would have been enough. Being able to shake his hand and tell him about a ministry we do for the poor and to share that small pin with him was a great gift to me."
Of her brief meeting with Pope Francis, Glasspool wrote, "I said something like, 'Your Holiness, it is such an honor to meet you and I thank you for your generous hospitality,' and he said, 'Thank you. Please pray for me.'"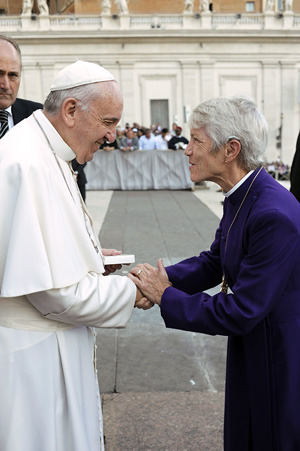 Glasspool continued, "I confess I have only ever prayed for any pope in the most perfunctory, casual way. From this day forward, I will be praying daily for Pope Francis, not because he is the pope (although that may not be a bad reason!), but because, as a fellow child of God, he asked me to."
About 14 bishops suffragan serving in dioceses all over the Episcopal Church first met for a retreat in Los Angeles in 2014. Deciding to make the time of sharing and mutual support an annual event, the bishops met this year in Rome, as Bishop Whalon of the churches of Europe is a bishop suffragan to the presiding bishop. Their next meeting, in 2016, is scheduled in Austin, Texas.