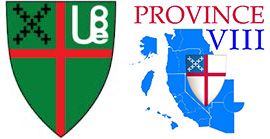 The Episcopal Church has a role and responsibility to overcome racism in American culture as well as in its own structures, says a statement issued July 20 by the Black African Ministries group of the church's Province VIII and the Western Region of the Union of Black Episcopalians.
"The video of George Floyd's excruciating eight-minute 46-second death under the knees of a Minneapolis police officer and with the aid of fellow officers was the final catalyst in an ongoing controversy in the United States," the Black leaders wrote. "What is causing unarmed Black Americans to die at such a disproportionately higher rate than White Americans during police interactions? Why is law enforcement being called to intervene in some of these minor situations at all?"
Naming some of the recent victims of police violence — Ahmaud Arbery, Freddie Gray, Philando Castile, Trayvon Martin, Breonna Taylor, Tamir Rice and others — the leaders called on The Episcopal Church to live up to its statement that all are welcome, asking that the church increase its advocacy for systemic social change, including an end to overt and covert racial bias in business, government, institutions and law, such as:
Unfair mortgage and auto lending rates
Predatory payday and student loans
Racial bias in medical treatment;
Housing discrimination
Generational trauma of racism and related mental health issues.
The statement also calls for city and state budgets in the Province VIII area be allocated less to law enforcement and more "to fund community programs to address the numerous health, safety, and financial obstacles people of color experience." Some of the issues they hope to see get more resources are:
LGBTQ rights, especially for people of color
Public school and early education, including daycare, after-school and summer academic programs
Nutrition education, healthy food availability and physical fitness programs in urban areas
Tuition assistance for college, trade school and journeyman programs
Legal, business advisory, and financial support for entrepreneurs and start-ups
Consumer financial services and community banking
Voter registration, access to polls and voting by mail
Rehabilitation and reintroduction of former felons to career, housing, and transportation.
The statement also outlines some specific suggestions for educational programs for Black children, fairness for Black people in the criminal justice systems, and an end to for-profit prisons.
Black leaders also reminded dioceses of The Episcopal Church of their own responsibilities to increase leadership roles for people of color; fund staff positions "to address the societal issues that disproportionately affect black and brown people"; require anti-racism training for clergy, lay leaders and staff; consider sponsoring truth and reconciliation programs; and to address how white privilege affects non-white people.
The statement concludes: "Statements on equity and inclusion alone do not alter complex human conditioning. We understand that it can be particularly challenging for White Americans to speak openly about racism and there are reasons for this. However, we must ask ourselves: "How can we proclaim that we have the love of Christ if we remain silent while innocent people continue to die?"
"We have celebrated our identity as African descendants in The Episcopal Church for over 220 years. Today, we remain resilient and proud of our heritage despite the sadness that sometimes arises from the centuries-old fight against marginalization.
"Here, in Province VIII and the UBE Western Region, our progressive social policies, although under continued verbal threats by the White House, are helping our country to preserve the years of work and sacrifice of our forebears to achieve social justice. Clearly, our work is not yet done."
Read the full statement here.
Province VIII of The Episcopal Church includes dioceses in the states of Alaska, Arizona, California, Hawaii, Idaho, Nevada, Oregon, Utah and Washington, in addition to the Navajoland missionary diocese, Micronesia and Taiwan.