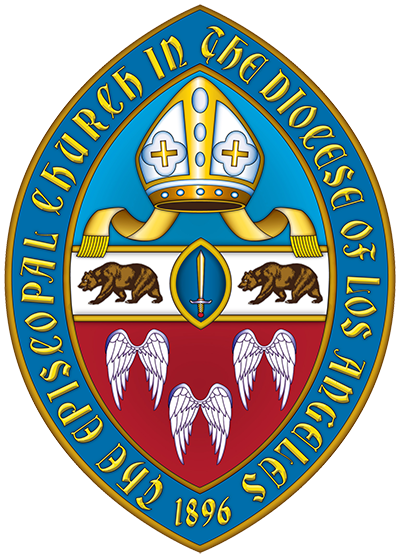 "Truth and Love" is the theme leading up to and including the November annual meeting of the Episcopal Diocese of Los Angeles, Bishop John Harvey Taylor announced at the Feb. 11 regular gathering of Diocesan Council.
"Our theme is drawn from Paul's letter to the church (Ephesians 4:14). Believe it or not, Paul was writing not about the 21st century, but about the first," Taylor said, referring to the apostle's admonition to speak the truth in love. Taylor invited council members as "leaders in the church to encounter people wherever they are," especially given current conflicting political, public health and theological narratives.
MSF missionaries 'find a way forward'
The diocesan Mission Share Fund (MSF), to which all churches contribute, ended 2020 at $3.9 million of cash receipts from parishes and mission congregations compared to the initial $4.6 million budget.
"This significant shortfall was expected as many churches struggled to adapt to online giving and will hopefully be the nadir in our collective stewardship. For 2021, we conservatively budgeted for $4 million in MSF income and will hopefully exceed this level as churches return to normal in-person worship," Canon Andy Tomat, diocesan treasurer, reported to council.
In addition, council members volunteering as MSF missionaries continue to engage parishes that are significantly past due in meeting their 2020 pledges, offering support, advice and counseling.
"We approach the congregations very cautiously because we are oftentimes aware of pastoral issues that are related to their inability to fulfill their commitments," said Dan Valdez, chair of the Episcopal Federal Community Credit Union board of directors and an MSF missionary.
"But we are being aggressive about establishing the contact, making sure that each of these congregations knows that we want to work with them, we want to help them find a way forward and to help them meet their obligations."
Expenses (funded by MSF income, Corp Sole and outside grants) ended the year at $6 million, approximately $900,000 under budget through a combination of attrition – vacant positions left unfilled – and program expense reductions. Savings were also realized because the pandemic forced major events, like diocesan convention and the annual clergy conference, to be held virtually.
'An exciting time' on budget and finance task force
Valdez told council members it is an exciting time to be a member of the Bishop's Task Force on Budget and Finance because the group at the start of 2021 is focused more on the church's future and on reorganizing governing bodies and less on deficits.
Task force subcommittees are examining church structure, the mission share fund and the Corporation of the Diocese. "The structure subcommittee is focused on our success stories around the church and how congregations have stepped up and served the community well and are healthy and vibrant," he said. "We are looking to share resources, ideas and processes among all our churches to build them up."
The future of the MSF – whether to continue congregational contributions on a pledge-based or an assessment system – is the work of yet another subcommittee. Canonically, parishes are asked to pledge 12-15% of their annual operating budget to the diocesan MSF, while mission congregations are required to contribute 10% of their annual plate and pledge income.
A third subcommittee aims "to build a bridge between diocesan council and the Corporation of the Diocese" to include the Corporation's members throughout the yearly budget draft process, rather than seeking their approval at its conclusion. A budget committee with representatives from both entities is forming, he said.
At its January 19, 2021 meeting, the Corporation elected officers and again appointed the Rev. Antonio Gallardo, vicar of St. Luke's, La Crescenta, as its representative to diocesan council. Directors for the insurance, budget, audit and executive committees were also appointed.
Both the Corporation, and the Standing Committee at its January 27 meeting, approved: a five-year lease for All Saints Church in Riverside to rent space to a Quaker community; a one-year lease with three different church communities at St. George's, Riverside, and a loan refinance for St. John's Chrysostom Church and School in Rancho Santa Margarita.
The standing committee also consented to the consecration of Chicago Bishop-elect Paula Clark, according to the Very Rev. Gary Hall, Bloy House interim dean.
Christine Budzowski, president of the diocesan Episcopal Church Women, reported that the deadline for applications for United Thank Offering is nearing. Grants will be awarded for Covid-19-related projects. Applications require approval of the diocesan bishop.
Convention, parochial reports, workshops
Canon Steve Nishibayashi, Secretary of Convention said planning is underway for the November 2021 diocesan convention. It is not yet known if convention will be held in person or virtually or a combination of the two.
Parochial reports for 2020 are also due. The reports are important for diocesan planning purposes and the Episcopal Church in North America relies on the data, Nishibayashi said. The form also reflects the pandemic's impact, including items about individual congregation's Covid-19 response and if they received Payroll Protection Plan loans. If the loan has not been converted to a grant, or forgiven, it will not impact the 2020 report but could possibly affect future reports.
Servants of the Spirit: Gifts for Ministry workshops
Convention coordinator Samantha Wylie reported that Servants of the Spirit diocesan workshops are continuing. "Best Practices for Stewardship Campaigns," led online by Davey Gerhardt, executive director of The Episcopal Network for Stewardship, or TENS is slated for March 3. More information on coming workshops and registration links are here.
Bishop Diane M. Jardine-Bruce reported that New Community ministries such as the H. Belfield Hannibal chapter of the Union of Black Episcopalians and the Asian Pacific Islander ministries have held online several community events, and that planning is underway for future virtual immersion experiences.
Bruce is seeking a diversity of representatives for the Program Group on Stewardship, from Latino and Asian communities, Gen-Zers and seasoned veterans.
Canon to the Ordinary Melissa McCarthy, who is also chief of staff at St. Paul's Commons, reported navigating staff transitions, including two available positions in finance; finance director and controller. Other recent transitions include appointment of the Rev. Tom Quijada-Discavage as interim missioner and the Rev. Norma Guerra as associate for Formation and Transition Ministry. Additionally, Canon Gail Urquidi is now serving as interim administrator for finance.
"As staff change … transitions are hard, but to transition a staff during a pandemic, when we're all working remotely, it's nearly impossible – but we're doing it," McCarthy said. She has also been working with the Bishop's Task Force on Budget and Finance, examining various ministry models at both the parish and diocesan levels.
Endowment, capital campaign, emergency appeal
The capital campaign is at about $1.8 million with another $1.3 million in verbal commitments, according to Jessica Savage, executive director of CCS Fundraising.
The emergency appeal is "hovering just under $260,000 to date," Savage said. Another round of grants will be awarded within the next few weeks, she added. "So we have some exciting new news and some momentum on the fundraising forefront for you all."
Additionally, proceeds from the sale of the Laguna Avenue property (across from St. Paul's Commons) have been included in the capital campaign endowment fund, according to treasurer Andy Tomat. The vacant triplex apartment building owned by the diocese was sold and the approximately $400,000 net proceeds was added to the new endowment fund and protected in perpetuity.
"The Real Estate Task Force, Corporation of the Diocese, and Standing Committee all determined that this was the highest and best use of the property to support our mission," Tomat said.
Taylor told council members that, rather than sell sacred property, the diocese is seeking ways to sustain churches in less well-resourced communities as a justice issue.
"We're going to rebuild the structure, using endowment, more muscular mission share fund and stewardship, as a way of making sure that we can do our best to keep the promise not to sell any sacred property," he said.
The next meeting of Diocesan Council will be held virtually on March 11.