[The Episcopal News] Middle East peace and assistance, the capital campaign, finance department changes, and returning to in-person activities figured prominently at the May 20 virtual meeting of Diocesan Council.
Bishop John Harvey Taylor said he welcomed an in-person gathering of the diocesan Altar Guild on that Thursday, the first in 14 months. Members met with recently ordained priests to present them gifts of handmade stoles.
Taylor reported on plans to survey the pledging habits of Southland Episcopalians as part of the diocesan capital campaign, which aims to raise $30 to $40 million in endowment funds over the next few years. A part of that effort involves considering ways "that we can make our institutions more accountable, more transparent and put them on a firmer financial footing. The capital campaign is absolutely vital to that," Taylor said.
"Bishops, deacons and priests of the diocese will all be invited to a conversation on June 3, 2021, to learn more from our Priest's Advisory Council and our capital campaign consultants about what the campaign is gearing itself up to do," said Taylor; "to enable parishes and missions to do capital fundraising, to enable them to put their institutions on a firmer foundation and realize their visions for glorifying God and caring for God's people."
Regarding Middle East peace and the Southland's companion relationship with the Diocese of Jerusalem, Taylor said he was unable to attend the May 13 enthronement of Jerusalem Archbishop Hosam Naoum because the Israeli government did not grant him a visa. Referring to recent violence between Israelis and Palestinians, he added: "What we long for most of all, I know, is the dignity of national self-determination for all who live in Israel and in Palestine, as well as freedom and security for all."
He invited assistance for the Ahli Arab Hospital in Gaza through the American Friends of the Episcopal Diocese of Jerusalem website "to make it possible for our hospital in Gaza to be able to contend with the massive influx of patients who were coming as a consequence of the war." The hospital, an institution of the Diocese of Jerusalem, offers a free clinic for thousands of impoverished families and treats all who walk through its doors.
Finances
Canon Andy Tomat, diocesan treasurer, reported that the diocese has received 2021 mission share fund (MSF) commitment letters from only one-half of the parishes. "These are critical in helping us plan for our expenditures for the balance of the year and correctly invoicing parishes each month," he said. "Duplicate forms can be requested from finance@ladiocese.org and a signed, photographed, and emailed copy is acceptable. The pledge commitments we have received so far are higher than 2020 in both dollar and percentage levels and this is much appreciated in these challenging times."
Additionally, "in order to make sure our accounting records are as accurate as possible, we continue to request that churches check their monthly MSF invoices to make sure their payment records agree with ours and email finance@ladiocese.org if any discrepancies are noted," he said. "Parishes are initially billed at the canonical minimum of 12% until an MSF Commitment letter is received, so that's often the cause of any discrepancy. We also have found issues with checks getting delayed for weeks in the mail and have instituted a process to log and track all checks received if any confirmation is needed."
Overall, MSF income is running $15,000 over budget through March. Expenses are running slightly under budget due to staff vacancies, so the total MSF budget represents a $70,000 surplus through March, which is a great blessing, Tomat said. "We will continue prudently watching our expenses as the balance of the year unfolds."
Dan Valdez, chair of the board of the Episcopal Federal Community Credit Union, reported that the Bishop's Task Force on Budget and Finance continues to monitor the budget and that next steps have been taken to apply for forgiveness of Payroll Protection Plan loans to diocesan churches and institutions. Those next steps include sending the documentation to the bank, which will review and forward it to the U.S. Small Business Administration.
The Very Rev. Gary Hall reported that the Standing Committee approved four candidates for ordination at 10 a.m. on Saturday, June 12 at Church of Our Saviour, San Gabriel, to the transitional diaconate: Julie Anne Lovelock Beals; Jose Luis García-Juárez; Joshua Nathanael Francoeur Paget and Katherine Y. Feng. The ordinations will be invitational only to include presenters, friends and family members of the ordinands, but will be livestreamed on the diocesan Facebook page and YouTube channel.
The committee also reviewed and approved lease and facility use agreements for several congregations as well as sale of the rectory at St. Clement by-the-Sea, San Clemente.
Thomas Diaz reported that Los Angeles General Convention deputies will meet virtually with House of Deputies President Gay Clark Jennings in preparation for the 80th General Convention of The Episcopal Church, meeting July 7-14, 2022 in Baltimore.
Secretary of Convention Canon Steve Nishibayashi said plans are underway for a one-day, in-person diocesan convention to be held on Saturday Nov. 15 at the Riverside Convention Center. Arrangements may change depending on public health care concerns, he said.
"We will remain vigilant and monitor the surveillance statistics across the counties included within the diocese. So we're developing contingency plans to respond to public health concerns," he said.
Individual deaneries will be expected to arrange their pre-convention business meetings, but three clusters of diocesan meetings are planned prior to convention:
Deaneries 3, 4, and 5, at 10 a.m. on October 23;
Deaneries 6, 7 and 8, at 3 p.m. on Sunday, October 24;
Deaneries 1, 2, 9 and 10 at 10 a.m. on Saturday Oct. 30.
Convention delegates will be pre-registered for these gatherings, which makes it "critical to have current names of delegates and their contact information," Nishibayashi said.
Samantha Wylie announced upcoming offerings via the Servants of the Spirit virtual ministry fair, including a June 2 Seeds of Hope workshop at 7 p.m. on how to become a green congregation. To register and view other available offerings visit the Gifts for Ministry web page.
Bishop Diane M. Jardine Bruce reported that she celebrated the 11th anniversary of her consecration as bishop suffragan on May 15. The 11th annual Called to the Wall was held virtually May 16 in collaboration with the Diocese of San Diego and may be viewed on YouTube here.
Development of stewardship programs from Latino and Korean perspectives are underway, and partnership with The Episcopal Network of Stewardship (TENS) continues. Bruce has also been included on the Province VIII stewardship committee. The New Community Ministry is planning upcoming events, and the annual Martin Luther King celebration planning is underway for January.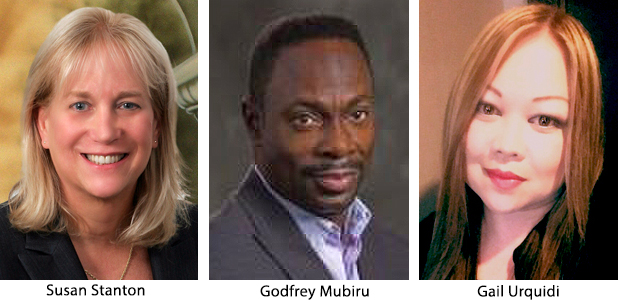 Canon to the Ordinary Melissa McCarthy said she is excited about the new finance department team, consisting of Godfrey Mubiru as controller, the Rev. Susan Stanton as finance director and Canon Gail Urquidi as canon for congregational support. (See related story here.) McCarthy and Taylor thanked Tomat for assisting in putting the team together. "We are also working on a reopening plan for St. Paul's Commons," she said.
Diocesan Historiographer Canon Bob Williams said Wednesday, May 26 will mark the 125th anniversary of the first convention of the Diocese of Los Angeles. Bishop Joseph Horsfall Johnson's theme was fear not "and he asked that every subsequent convention, remember his theme of Fear not. And so I offer that to you this afternoon." (See related story here.)
Taylor recalled the May 1, 2021 memorial service for Bishop Jon Bruno, available for viewing here. He asked for prayers for Mary Bruno's brother, Warren Pestka, who had been in a devastating accident, has been in a coma and is not expected to survive. (The diocesan staff later learned that Pestka died on May 20. Survivors include his wife, a daughter and a grandson, as well as another brother.)
The next meeting of Diocesan Council will be held virtually on Thursday, June 10.