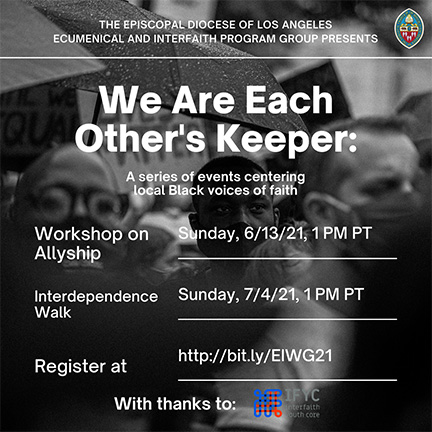 [The Episcopal News] The Ecumenical and Interfaith Program Group of the Episcopal Diocese of Los Angeles is developing programs that highlight racial justice and solidarity through the voices of local leaders of faith and moral conscience. The initiative is called "We Are Each Other's Keeper," and its first webinar, on "Allyship," is set for 1 – 3 p.m. on Sunday, June 13.
With support from Bishop John Harvey Taylor and the program group, the diocesan Interfaith Ministers in Residence are taking the lead in making this programming available to congregations within the diocese and members of various faith communities online. This series of events was made possible by the Interfaith Youth Core's Racial Equity & Interfaith Cooperation Award from their We Are Each Other's Fund.
The June 13 training will begin with an in-depth discussion on allyship with local Black leaders, representing various worldview perspectives, to lay the foundation for what is and is not allyship. Building upon the speakers' sharings, participants will take part in an interactive allyship training that equips them with skills and practices in addressing their own biases and community contexts when discussing race relations.
Sable Manson, one of the interfaith ministers, will be the facilitator for the allyship training, sharing her enthusiasm that this series of events will be an opportunity to authentically engage individuals who are directly impacted by these topics and issues. "While there are universal principles and lessons to be learned, we must remember that there are human beings connected to these values," said Manson, who holds a Ph.D. in education from USC.
Tasneem Noor, another of the interfaith ministers, adds, "Allyship starts when seeing each other as human beings; that's when we're able to build the compassion to stand for justice." She looks forward to exploring how individuals and communities can find their ways of becoming bridges for solidarity.
Other events, including the annual interfaith Interdependence Walk, will be a part of this series. "We invite attendees to live with, learn from, and love one another with intentionality; that's what justice looks like," interfaith minister Tahil Sharma summarized.
To register for the allyship training and other events, click here.
For more information, please contact Tahil Sharma at tahil.sharma@laverne.edu.