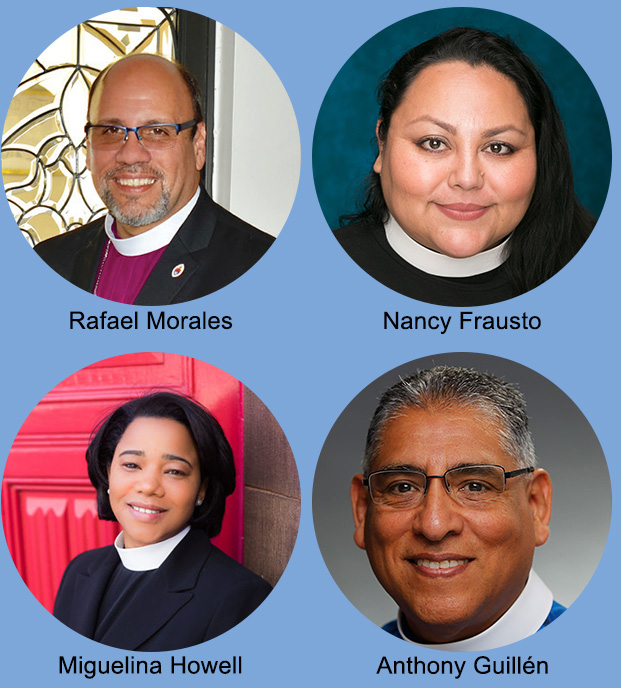 The Episcopal Preaching Foundation, in partnership with The Association of Episcopal Deacons, is offering a Zoom-based preaching conference created specifically for Spanish speaking deacons of Episcopal and Anglican Churches on two consecutive weekends, October 7 – 8 and October 14 – 15, 2022.
Presenters include the Rt. Rev. Rafael Morales, bishop of Puerto Rico; the Very Rev. Miguelina Howell, dean of Christ Church Cathedral, Hartford, Connecticut; the Rev. Nancy Frausto, director of Latinx Studies at Seminary of the Southwest; and the Rev. Canon Anthony Guillén, missioner for Latino/Hispanic Ministries and director of Ethnic Ministries for The Episcopal Church.
The conference will provide guidance on sermon preparation and delivery, recognizing that the unique role of the deacon is to embody the Church in the community and that diaconal sermons will of necessity have their own unique focus and tone.
The structure of the conference weekend will be anchored by small intimate preaching groups of 3 or 4 participants with a trained EPF moderator. Each participant will have an opportunity to preach and receive feedback from peers and from the moderator.
Each Friday and Saturday program will be anchored by a morning plenary talk delivered by a noted educator or preacher. Panel session on specific topics may be offered, depending on the final schedule.
Each day will open and close with worship. To combat Zoom fatigue, the schedule will incorporate several hours of free time, with program time (excluding worship) limited to no more than 4 hours per day.
The fee for participation will be $50 per person. For information and to register, click here.
---
Conferencia de predicación en línea para diáconos de habla hispana de la Iglesia Episcopal prevista para octubre
La Fundación de Predicación Episcopal (EPF) ofrece una conferencia de predicación de dos fines de semana creada específicamente para diáconos de habla Español de las Iglesias Episcopal y Anglicana y se reúne a través de Zoom. El EPF está planeando esto en colaboración con la Asociación de Diáconos Episcopales (AED). Las fechas son el 7 y 8 de octubre y el 14 y 15 de octubre de 2022.
Los presentadores incluyen el Rvmo. el Rev. Rafael Morales, obispo de Puerto Rico; la Reverenda Miguelina Howell, decana de Christ Church Cathedral, Hartford, Connecticut; la Reverenda Nancy Frausto, directora de Estudios Latinx en Seminary of the Southwest; y el Reverendo Canónigo Anthony Guillén, misionero de Ministerios Latinos/Hispanos y director de Ministerios Étnicos de la Iglesia Episcopal.
El objetivo de la conferencia será brindar orientación específica sobre la preparación y entrega de sermones, reconociendo que el papel único del diácono es encarnar a la Iglesia en la comunidad. Reflejando esto, los sermones de los diáconos necesariamente tendrán su propio enfoque y tono diaconal único.
La estructura del fin de semana de la conferencia estará anclada por pequeños grupos íntimos de prédica de 3 o 4 participantes con un moderador capacitado de EPF. Cada participante tendrá la oportunidad de predicar y recibir comentarios de sus compañeros y del moderador.
Cada programa de los viernes y sábados comenzará con una sesión plenaria para todo el grupo a cargo de un destacado educador o predicador. Se puede ofrecer una sesión de panel sobre temas específicos, según el horario final.
Cada día se abrirá y cerrará con adoración. Para combatir la fatiga de Zoom, el horario incorporará varias horas de tiempo libre, con el tiempo del programa (excluyendo el culto) limitado a no más de 4 horas por día.
La cuota de participación será de $50 por persona. Para obtener información y registrarse, haga clic aquí.