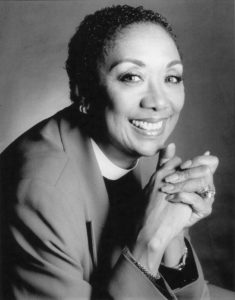 August 4, 1943 – December 16, 2016
Mother Albertine, former rector of Holy Communion Church, Gardena, was a passionate, gifted pastor and teacher with a strong dedication to lead others into a life centered in prayer. She exuded caring and was truly an instrument of God's love as she generously shared herself with all people, compassionately listened to the needs of others, and interceded in constant prayer for those seeking wholeness and healing.
She knew what it meant to be "all things to all people"; and as a result, those of us who knew and loved her felt as though she exclusively "belonged" to us. The following words capture a glimmer of her essence: daughter, wife, cousin, sister, friend, godmother, prayer warrior, and pastor.
She was a retired priest of the Episcopal Diocese of Los Angeles and is an alumna of Boylan Haven Mather Academy, Alcorn A&M State University, and Duke University Divinity School and the only child of Albert M. Coney and Myrtle Chapman Coney. She was preceded in death by her beloved spouse, Robert M. Rouse.
She is survived by a host of cousins – Craig Coney and Renita Coney Mays, of Flint, Michigan; Elaine Coney, of Magnolia, Mississippi; Sidney Evans (Skip), of Washington, DC; and Brenda J. Bishop, of Greensboro, North Carolina – and godchildren and friends who affectionately call her Mommie and Tina.
Those of us who remain are truly left with broken hearts as a result of her transition; however, we are surrounded by a great cloud of witnesses – now including her – reminding us of the love that will not let any of us go, reassuring us that, whether we live or whether we die, we are the Lord's.
Mother Albertine is being honored at services on both the East Coast and the West Coast. In lieu of flowers, donations can be made to the La Cañada Flintridge YMCA in memory of Albertine and Robert Rouse. All other expressions of sympathy can be sent to the family: Brenda Bishop, Trevon Gross, Tamiko Kirk, Sidney Evans.