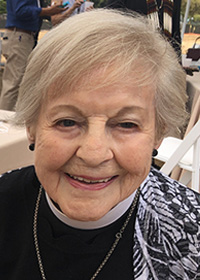 January 28, 1924 – September 5, 2021
The Rev. Barbara Coxe Barnum, deacon at St. Michael's Ministry Center, died Sept. 5, 2021 at 97. She was actively engaged in ministry until the very end of her life.
Survivors include her two children, Barbara Barnum Morrissey and Samuel Barnum (Bunny); her four grandchildren, Sona Morrissey Renker, Mark Morrissey (Hong), Luke Morrissey (Angela Rivas) and Michael Morrissey (Jessica Osterberg); and four great-granddaughters, Sascha Renker, Maya Renker, Luka Renker and Ciara Morrissey. She is also survived by members of the Richardson and Dunlap families (her in-laws) and members of her brothers' families.
A memorial service will be held on Sunday, Feb. 20 at 3 p.m. at St. Michael's, 4070 Jackson Street, Riverside 92503. Bishop John Harvey Taylor will celebrate; the Rev. Canon Mary Crist will preach. A reception with light refreshments will be held in the church immediately after the service.
Barbara Coxe was born in Wilmington, Delaware, on January 28, 1924, daughter of Louis Henry Coxe III and Irene Barr Winner Coxe. She had two younger brothers, Louis Henry Coxe IV and Robert Lloyd Coxe.
She attended the University of Delaware where she met Ferdinand Barnum, better known as Ferd, at the freshman dance. Her family tells the story of their first meeting: according to one local custom at such occasions, before a dance the girls would throw one of their shoes onto the center of the dance floor. The boys would find the shoe belonging to the girl with whom they wanted to dance. Ferd Barnum, having duly noticed both Barbara and her shoes, was prepared, and their dance marked the beginning of a loving romance that kept them together for the rest of their lives.
Barbara graduated in 1944, and they married that fall. Ferd graduated from medical school in 1946 (their first child, Barbara, was featured in his 1946 yearbook as a pinup baby in a diaper sitting on the scales), and after completing his internship, he was given an assignment in post-war Japan as a physician in the Army Air Corps, where he eventually attained the rank of colonel. Barbara joined him soon after the birth of Samuel in October 1947.
Barbara's father, a U.S. Army colonel, was one of three postwar military governors in Japan, and so she was able to see her parents while she and her family were in Japan. According to the couple's children: "At that time, one of the requirements of the [military] spouses was the ability to shoot a gun accurately. Our father said that when the women would come to the firing range, they could not be accompanied by spouses or other family members; only instructors were permitted. When Mother's turn came, they thought she had missed the target altogether. In fact, Barbara was more skillful than they had expected. As it turned out, she had hit the bulls-eye perfectly. Our grandmother told us that our grandfather had built a target range in the basement of their house in Delaware and taught her to shoot when she was a teenager."
Barbara was raised in the Presbyterian Church, but according to her family she refused to be confirmed, even though a number of her male relatives were elders in the church. The Barnums joined an Episcopal church in Texas, where Colonel Barnum was stationed after their time in Japan, and were confirmed and remained involved in the local parish wherever they lived. When they moved their family to Riverside in 1970, both were active in the church before Ferd was assigned once again to Japan, where they were stationed from 1973 to 1977. While in Japan they both became lay eucharistic ministers (LEMs) recognized by the Bishop of Japan and the Episcopal bishop in the U.S. military.
"After our parents returned to Riverside and Dad retired, our mother told us she had asked to become an LEM in the diocese, but at that time there were no women licensed as LEMs. However, they could hardly deny her since two bishops had already approved her credentials. She was licensed as such in 1977 by the bishop of the Diocese of Los Angeles," according to the family. In 1979, both Barbara and Ferd became lay readers and chalice bearers licensed by the diocese.
Barbara continued her schooling. In 1987 at age 63 she earned her Master of Arts degree at California State University, Fullerton, with a specialty in liturgical design. She and her husband traveled to England and France, studying church architecture. In 1991 she became a liturgical consultant with a certificate from the Catholic Theological Union in Chicago, Illinois. In 2007, she received a diploma in theology from the Episcopal Theological School at Claremont. In 2008, at 84, she received a master of divinity degree from Claremont School of Theology, and in 2011, Bishop J. Jon Bruno ordained her as a vocational (permanent) deacon at Grace Church, Moreno Valley, California.
Ferdinand died in 2014. Barbara served at Grace Church for several more years before joining St. Michael's Episcopal Ministry in Riverside in February 2017, where she continued her ministry until her death on September 5, 2021.
—Adapted from an obituary supplied by the Barnum family.