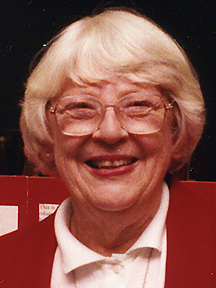 d. August 27, 2009
Canon Betty Connelly, a veteran lay leader in the Diocese of Los Angeles and the wider Episcopal Church, died August 27 in Newport Beach, California, where she had been hospitalized the previous week after a stroke. She was 85.
Connelly represented the Diocese of Los Angeles as a six-time Deputy to General Convention (1982-1997) and served on the Committee on the State of the Church. She was a member of Executive Council (1982-1988), and the Board of Trustees of the Church Pension Fund, which honored her with a tribute in its 1998 annual report. She was a leader in the Anglican Fellowship of Prayer, and an advocate for Episcopal Relief and Development (then the Presiding Bishop's Fund for World Relief), which she served as diocesan co-representative.
In another church-wide capacity, Connelly served the Episcopal Church Women as president, chairing the ECW Triennial Meeting in 1979. She was ECW president in the Diocese of Los Angeles.
Among other local roles, Connelly was a member of Diocesan Council and the Standing Committee. In 1993, in recognition of her extensive service, she was named an honorary canon of the Cathedral Center of St. Paul, Los Angeles.
"Many of us knew Betty as a trusted friend and advisor for many years, and she will be greatly missed," said Los Angeles Bishop J. Jon Bruno.
Connelly was born in 1924 in Los Angeles and attended Pomona College. She and her husband, Dan, were married for 63 years and resided most recently in Costa Mesa, California.
He survives her, as do her three children — Richard (Janice) of Shell Beach, California; Patrick (Terri) of West Chester, Pennsylvania; and Kathi (Rick) Liebermann of Newport Beach — nine grandchildren and seven great grandchildren.
Memorial Eucharist is scheduled for 11 a.m. on Saturday, September 12, at St. Michael and All Angels Church, Corona del Mar, where the Connellys have been parishioners in recent years.