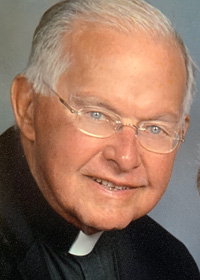 May 10, 1924 – June 28, 2022
The Rev. Donald A. Stivers, retired vicar of Christ the King Church, Santa Barbara (1983 – 1991), died June 28. He was 98.
A service will be held at 2 p.m. on Saturday, July 16 at Trinity Episcopal Church, 1500 State Street, Santa Barbara 93101-2514 (805.965.7419).
Survivors include his daughter, Margaret G. Stivers; his son and daughter-in-law, Michael H. and Michelle P. Stivers; a sister, Jean Webb, and brother, Kenneth Stivers; and two grandchildren, Alexander and Louise. His wife, Florence, died in January 2021; he also was predeceased by a brother, the Rev. Alton H. Stivers, and a grandson, John R. Stivers.
Before his tenure at Christ the King Church, Stivers was rector of St. Christopher's, Boulder City, Nevada (1979 – 1982), and of All Saints Church, Rochester, New York (1953 -1979).
Born in Geneva, New York, Stivers grew up during the Depression years on a rustic farm in New York's Finger Lakes area and attended a one-room schoolhouse. Baptized in the Baptist church, he often attended Presbyterian services with the family of his parents' landlord. His family returned to Geneva and he attended high school there. He excelled in his studies, learning French and German, as well as typing, which became useful later a few years later. He worked on the yearbook, was a stagehand for school plays, and enjoyed movies and music, even considering a career in filmmaking. At about this time he also discovered the local Episcopal Church and began to feel a call to ordination.
Upon graduation, he was drafted into the United States Army and spent the next four years in the 256th Armored Field Artillery Battalion, which landed in Normandy (Utah Beach), and fought through France, Belgium, Holland, and finally into Germany, according to an obituary written by his family. As battery clerk, Stivers "not only had a carbine rifle but also a typewriter." His work included writing "killed in action" letters; later he commented that "my ministry was well underway before I fully realized it."
After the war, Stivers attended Hobart College in his home town of Geneva, graduating with a bachelor's degree. With the help of two fellowships he earned a bachelor of divinity degree at Seabury Western Theological Seminary (Evanston, Illinois) in 1951. Bishop Dudley S. Stark of the Diocese of Rochester ordained him to the diaconate that June and the priesthood the following December.
On Sept. 10, 1960, Stivers married Florence Hume Tryon, a nurse at Rochester General Hospital. With their son and daughter they lived in Irondequoit, New York, while he served a long tenure as rector of All Saints Church. The family spent a sabbatical year in Canterbury, England, where Don Stivers attended St. Augustine's College; his family writes that a highlight for him was a lunch with the then-Archbishop of Canterbury and the young Princess Anne, daughter of Queen Elizabeth, who "wanted to hear all about America."
Stivers earned a master's degree in marriage and family counseling from Colgate Rochester Divinity School. The family visited Israel and Palestine in 1974, visiting holy sites. Stivers and his wife were drawn to the Charismatic Movement, and both studied at L'Abri in Switzerland with ttheologian Francis A. Schaeffer.
In 1979 Stivers accepted a call to St. Christopher's Church, Boulder City, where he served for several years before becoming vicar of Christ the King Church, Santa Barbara. He retired in 1991, and assisted at All Saints Church, Santa Barbara. A longtime associate of the Order of the Holy Cross, he also celebrated weekly services at the Mount Calvary Retreat House and Monastery; he continued his ministry at the brothers' new retreat center after the Mount Calvary site was destroyed by fire in 2008.
In retirement, Stivers enjoyed swimming at the Cathedral Oaks Athletic Club, hiking and birdwatching, writing semi-fictional short stories and reminiscences, and taking photographs; he received a Polly Bond Award for photography in 1984 from the Episcopal Communicators professional association.
He once wrote: "I have deepened my understanding of what it means to belong to the Body of Christ. Through entering into the lives of people from different traditions, I have learned the meaning of our oneness in Christ. It stretches over our artificial denominational walls and links us with those who have gone on before. We are all called to be the holy people of God. While we know from our baptism we are buried with Christ and raised to a new life in him, we dare not assume our heavenly Father is limited by his sacraments. Instead, we rejoice in those of every generation who have humbly lived to the praise of his Holy Name. We have fellowship with them to pray for us to our Father … Trust in the Holy Spirit, for understanding is the key."
The family suggests that memorial gifts may be made to Episcopal Relief & Development.
The obituary written by Stivers' family is here.